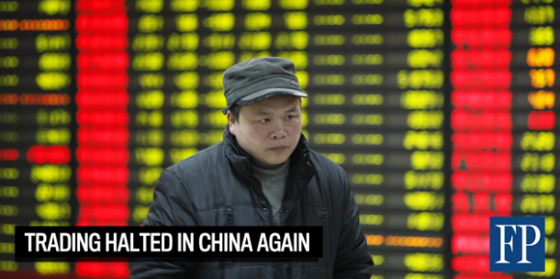 China's savers are losing confidence in the yuan and that is going to continue to drive a flow of Chinese wealth out of the country, potentially creating bubbles in overinflated assets elsewhere, warn economists.
Thursday once again saw the Shanghai stock market crash seven per cent before a circuit-breaker was triggered, following one of the biggest downward adjustments to the yuan since August. The currency is fixed to the U.S. dollar and the People's Bank of China has spent much of the past year gradually lowering its value against the greenback. Economists speculate the move is an attempt at competitive devaluation as the Chinese economy continues to show signs of slowing growth.
Thursday's stock market crash can essentially be labelled a currency panic, as the unexplained lowering of the yuan has shaken investor confidence. It has also created concerns that China's neighbours will be forced to engage in their own competitive devaluation to keep their exports competitive, worsening regional instability.
China's currency fiasco also has repercussions for countries outside of Asia, including Canada. The selloff in Chinese stocks is an attempt by investors and savers alike to shift their money into assets not tied to the yuan, in order to protect the value of their investments.
All that money flowing out of China will have an effect on investments that have been popular with Chinese investors, including homes in Canada.
"Stand by and watch your life savings go down as the yuan is deliberately pushed lower and confidence in policy communications deteriorates, or get out one way or another including buying the USD and more homes in Vancouver and thus creating further imbalances elsewhere," said Holt. "That's not easy for investors to do in China, but getting easier."