Vancouver home sales plummeted by about 26 per cent in August, compared to the same month a year earlier, after B.C. introduced a 15 per cent Property Transfer Tax on foreign buyers.
But don't blame the tax: Home sales were down an even larger 27 per cent in July, before the tax came into force, and had been dropping for months before it was announced, according to Capital Economics.
These trends support the idea that it's debt, and not foreign buying, that is inflating a housing bubble cross Canada, the U.K.-based firm said in a report released Friday.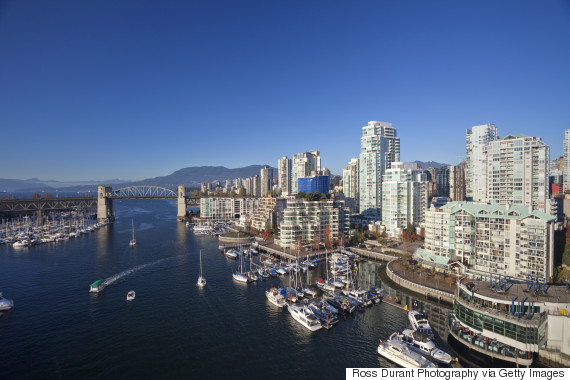 Vancouver's False Creek area. (Photo: Ross Durant Photography/Getty Images)
Capital Economics has been uniquely bearish about Vancouver real estate, having predicted long ago that prices could fall by 30 per cent in the long term.
Last month, the average price of a detached Vancouver home saw its steepest single-month slide in almost 40 years, falling by 16.7 per cent from $1,764,682 to $1,470,265.
Such drops were less obvious when looking at median prices. The median price of a detached home in Vancouver West actually grew from $3,519,000 to $3,550,000, while the same type of home fell from $1,620,000 to $1,472,500 in Vancouver East.
In other words, it's a far cry from Capital Economics' long-term prediction.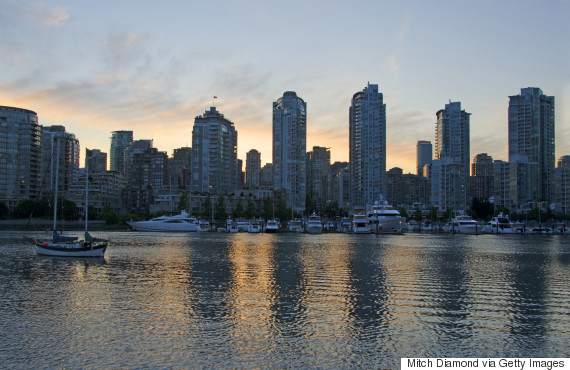 The Vancouver skyline. (Photo: Mitch Diamond/Getty Images)
Nevertheless, the firm said that the steeper fall in July proves what they've been saying for some time: That debt, rather than foreign money, is what's driving home values far beyond local incomes across Canada.
Two months ago, economist Paul Ashworth blamed the growth in debt on low interest rates and other factors, which "allowed households to expand their debt without increasing the proportion of their incomes" needed to meet their obligations.
There are indeed measures showing that Canadians are heavily-indebted. Canada's debt-to-income ratio for the first three months of 2016 was 165.3 per cent, the highest that some analysts had ever seen.
But not all economists agree that growing debt is behind recent house price hikes.
The chart below shows price growth spiking, even as debt growth keeps an even pace: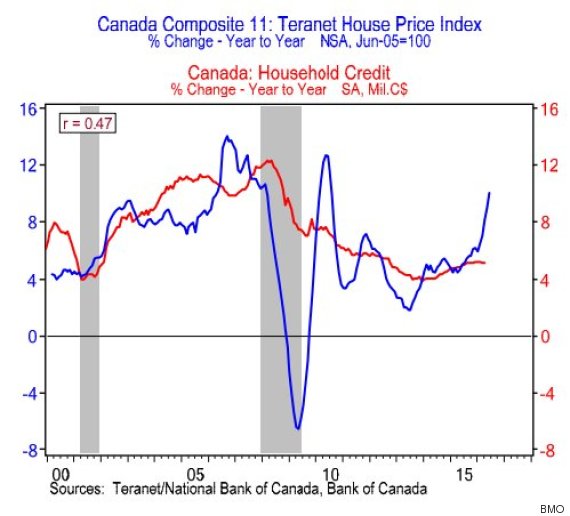 BMO economist Douglas Porter published the chart in July in an effort to show just how much foreign money is influencing housing prices.
The chart shows home prices growing much faster across Canada than household credit is. Indeed, home prices are spiking, even though borrowing has slowed.
"Something besides domestic borrowing has clearly fanned the flames," Porter said. "We will simply note the anecdotal evidence that many foreign buyers do not borrow to buy."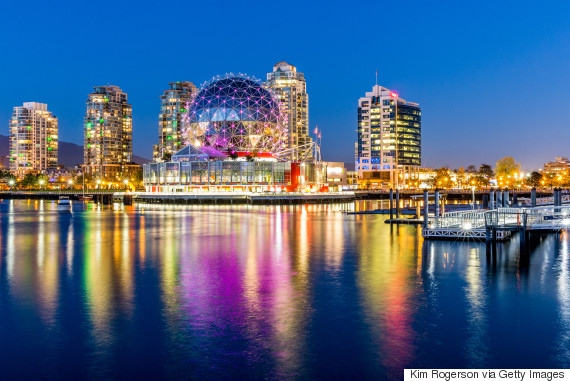 Vancouver's Telus World of Science, with condo buildings behind it, on False Creek. (Photo: Kim Rogerson/Getty Images)
And he's not alone in dissenting from Capital Economics' view.
Last month, TD economist Diana Petramala told HuffPost Canada that, despite growing demand for housing in B.C. and Ontario, "we haven't seen a coinciding pickup in debt growth."
Debt-to-income ratios in both provinces are still roughly at their long-term averages, she added.
"They're not growing as scarily as the home price-to-income ratios are rising," Petramala said.