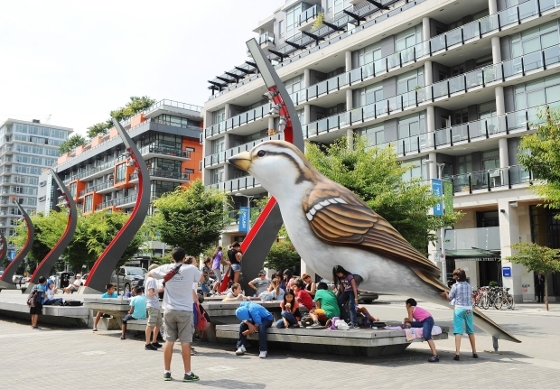 The Olympic Village neighbourhood — part of Southeast False Creek — has emerged as one of the more scenic and central spots for a patio beverage or waterfront view, with a promenade that feels like New York's High Line. Myfanwy MacLeod's gigantic sparrow sculptures in the Plaza have become a favourite photo op. Small retailers are adding to the texture, with the popular Earnest Ice Cream now at 2nd and Quebec. And condo and retail development is nowhere near complete. Empty city-owned land to the west, another 15 acres, will add to the density and livability of the area once it's developed.
That's why real estate agent Bryan Yan considers it one of the best real estate purchases going, especially in the past couple of years. Mr. Yan says he found units that were selling for $750 or $800 a square foot in 2013, a big drop from the original asking prices of 2010. Today, he's still finding deals for his clients, including a 1,292-square-foot unit that recently sold for $500,000 less than the original purchaser had paid in 2010. It's a particular hit because that purchaser would have paid HST.
"Most people have lost money if they purchased in the Olympic Village in 2010," he says. "They jumped in with this Olympic fever, and they lost. They're finding out everybody is losing money on it. A lot of them are losing 10 or 15 per cent, still."
He believes prices will continue to climb, so original buyers who don't sell will eventually see a return on their investment, probably over the next five years. The way things go in Vancouver, that's not an unlikely scenario. The Village is finally getting its due.
Former chief planner for the city, Brent Toderian, now an urban consultant for worldwide projects, regularly takes politicians, developers and designers on tours through the Village. He is proud of the Village as a model of leading-edge sustainable urban design, and a dense, mid-rise project that includes retail on the waterfront — a rare feat, he says. While there were setbacks in building something so ambitious in a short period of time, he says the model set the stage for the future. He regrets that so much of that innovation was lost in the controversy surrounding the financing over the former athletes village. The Village was dogged by stories of financial losses, construction deficiencies and short shrift given to affordable housing.
The city took over the development in 2009 when Millennium, developer for the project, got hit by the 2008 economic crisis. The city took on massive debt to finish the project and Millennium went into voluntary receivership. Receiver Ernst & Young and Rennie Marketing Systems took over and recovered costs, ending the city's precarious part.
"I'm very comfortable saying the Village is a success from a planning and urban design and sustainability perspective — that's different from saying that people didn't overpay," says Mr. Toderian.
He recalls when prices went beyond $2,000 a square foot in 2010.
"The prices were ridiculous, initially … the problem was, they were overpriced. If anyone has had to sell their units for a loss, that has nothing to do with the planning, and everything to do with speculation, and overassessment of what the units were actually worth.
"It was a shame to me, because when the U.S. Green Building Council proclaimed it the greenest community in North America, and global urbanists were saying it was one of best new communities on the planet, at the same time that was happening, the politicians were beating it like a pinata.
"I think that did a lot of damage to the perception and marketability of the community initially, and it jeopardized the ability of the city to recoup its money."
But that was then, this is now. And now that the controversy has blown over, as far as communities go, the place is a sleeper hit.
Bob Rennie, who only has 27 condos left to sell at the Village, says it was a matter of distracting the media. Mr. Rennie is a masterful spin doctor, so he was part of the effort to re-brand the area as The Village on False Creek. Of course, that name has never stuck.
"We wanted to cleanse it of the storm cloud of the word 'Olympics,' " he explains. "But you could rename it Rockefeller Center, and they would still call it Olympic Village."
His game plan included referring to the place as a "ghost town" in interviews.
"I wanted to take media's eye off the exaggeration of deficiencies and its focus on finances, and get it to look at occupancy," he says.
He felt if he could change the conversation, he'd easily sell the place off. After all, he was dealing with rare waterfront residential property that was not a presale.
These days, his interest in the area extends well beyond the former athletes village. Mr. Rennie has also marketed the nearby Wall Centre False Creek, and he has other interests in the area, including The Independent for Rize Alliance, which is in presales.
"It's like the new west end," he says of the emerging community.
Charles Montgomery, the urbanist who wrote about healthy urban design in his 2013 book Happy City, is mostly pleased with the outcome. He would have preferred, however, to see more social housing and smaller scale retail, including a public market.
"The Olympic Village is a great place. Could it have been even better? Yes," he says. "But like every emerging neighbourhood, it is the victim of circumstance, compromise, politics and luck.
"For a neighbourhood to thrive, you need people. Why were people so slow to move to Olympic Village? The price points were too high. Why were they too high? Again, trace those price points back to the decision made more than a decade ago when city council decided to try to maximize revenues on the land, as opposed to maximizing social value. I think that's an important point to make. "
Mr. Toderian is quick to point out there is 20 per cent social housing and 11 per cent rental at the Olympic Village. Considering that it is one of the most central and scenic locations in the city, he considers those numbers a success. The former "ghost town" is not only walkable for inhabitants, but it's drawing people from all around the city. The rapid condo development on surrounding private land is also a symptom of its success.
He says it was always a matter of strategic planning.
"My line has always been, 'Keep waiting, keep watching.' Because every community needs to finish, and then it needs to mature."