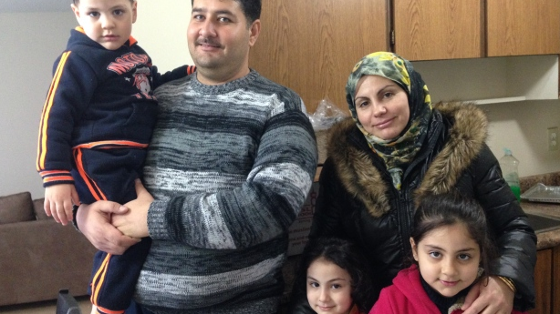 More than a dozen families of Syrian refugees recently arrived in Metro Vancouver have found permanent homes at below-market rates thanks to a local real estate management company.
"It's different to be in your own home, just you and your family. Very nice feeling," said Manel Okla, one of the 17 families moving into one of the apartments Concert Properties has offered in Coquitlam, B.C.
Okla, her husband, and their three children haven't lived in their own home for five years. They lived in a shared home in Jordan after fleeing Syria and said they're excited about having a two-bedroom apartment to call their own.
The company usually rents out a two-bedroom apartment for $950. But president and COO Brian McCauley says they're offering them at $700 for one year, until the families hopefully get settled in. After that the apartments would still be available, but at market rates.
"We have a long history of giving back to the communities that we do work in," he said. "We just felt this was the right thing to do."
The 17 apartments on offer are in a large housing complex with more than 300 units, which McCauley said is slated for redevelopment in about three years.
Searching for permanent housing
The majority of Syrian government-assisted refugees who have arrived in B.C. are still living in temporary housing or hotels. Immigrant Services Society of B.C. told CBC last week that out of nearly 680 government-assisted refugees, only three families have been settled into permanent homes.
It's been so difficult to find permanent housing for refugees, Vancouver and Ottawa have asked the federal government for a pause in accepting any more of them as the cities try to work through housing bottlenecks.
Housing outreach worker Ahmed Fadhil says he has been working day and night to find homes at affordable rates.
"It's not easy. It's very hard," he said. "When I see [an apartment] very low-priced, something very good for them, right away I call the manager and I take an appointment for us and we go together."
Government-assisted refugees get a housing allowance to cover their first year in B.C., but it's not a large amount. A family of four with two children under age 19, for example, would get about $800 a month.