A B.C. developer is pitching affordable condos with no money down — an idea that concerns housing experts.
The Strand condo project in the Vancouver suburb of Port Moody is expected to feature one- and two-bedroom units with mountain views, and commercial space on the ground floor.
The developer, Townline, is hoping that the Canada Mortgage Housing Corporation (CMHC) will allow buyers to purchase units without making a down payment.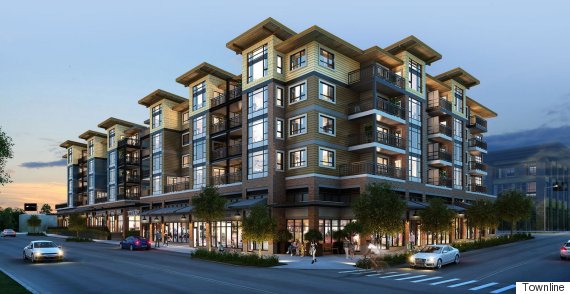 Rendering of The Strand condo project being planned for Port Moody, B.C. (Photo: Townline)
If the housing authority gives approval, it would mean that units could be sold foreight per cent below market value, and mortgage lenders such as banks would finance the purchase in full.
"It's just a different spin on, 'How do we provide an affordable home ownership option to buyers who otherwise can't get into the market?'" Chris Colbeck, Townline's vice-president of marketing, told CBC News.
There are some restrictions. A family's maximum income has to be $65,850 for a one-bedroom unit, or $92,430 for a two-bedroom home.
Owners must live in the home as a "principal residence" for at least two years before it can be sold, but they would never have to pay back the eight per cent that was taken off the price.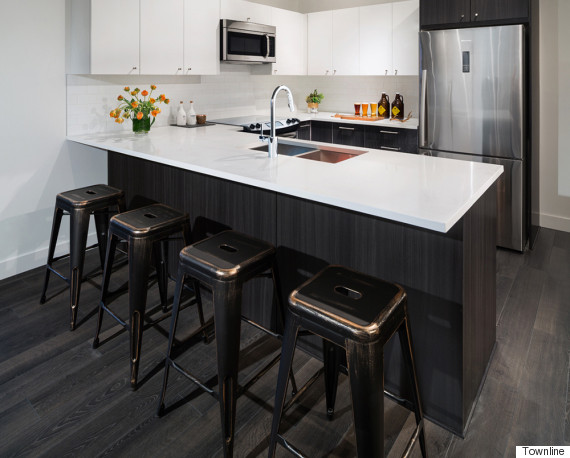 Rendering of a kitchen in The Strand condo project. (Photo: Townline)
The CMHC could permit this under its "Flexibilities for Affordable Housing" program, which allows numerous options for paying down a mortgage. They include allowing buyers to make down payments by performing labour, or by borrowing cash.
While Townline's website boasts that CHMC is a partner in its program, the federal body told Global News that the developer's proposal is still under review.
"CMHC offers flexibilities for affordable housing… This is not the same thing as requiring no down payment," said a statement from CMHC.
"CMHC offers flexibilities for affordable housing… This is not the same thing as requiring no down payment."
Townline's proposal has given some real estate experts pause.
UBC professor Thomas Davidoff told CBC News that the CMHC wants buyers to put some money down on their properties "because they want to know if the property value falls, the buyers will still have some equity and not default on the loan.
"Otherwise CMHC has to pay the difference to the lender upon a default. ... If there is a large price decline CMHC is in a first loss position."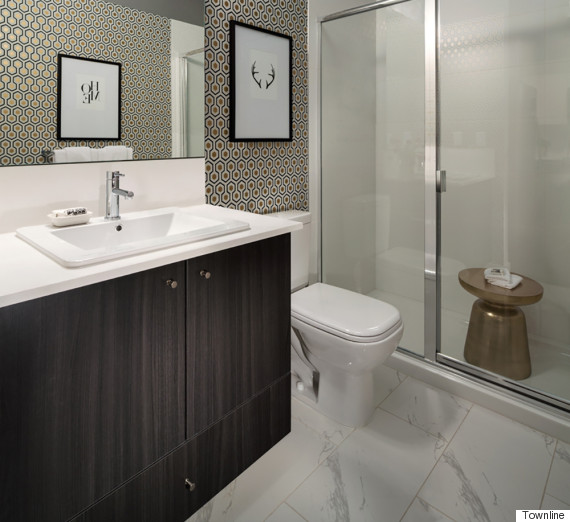 Rendering of a bathroom at The Strand. (Photo: Townline)
The proposal is being supported by BC Housing, which is providing "low-cost construction financing" conditional on 90 per cent of The Strand's units being sold before it's built, Global News reported.
Townline's proposal comes at a time when Canadian household debt is reaching record highs, and financial experts are warning people to be careful about borrowing too much money.
The ratio of household debt to disposable income jumped from 163 per cent to 164.6 per cent in the first and second quarters of last year.
Such a ratio meant that Canadians, on average, owed $1.65 for every dollar they earned. The growth in the ratio was blamed, in part, on feverish real estate activity in B.C. and Ontario.