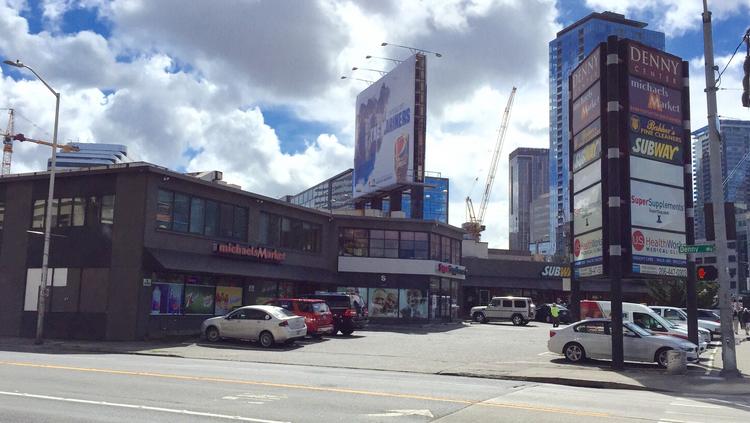 A Vancouver, British Columbia real estate developer is planning a large project on an oddly shaped property by the offices of Amazon (Nasdaq: AMZN).
The developer's name, Bosa, is likely familiar to those who follow Seattle real estate. But it's not Nat Bosa – the developer behind the two-tower Insignia condo project going up by the Space Needle – who is proposing this development. Rather, it is Nat Bosa's brother, Robert, who is the founder of Bosa Properties.
Bosa Properties has filed early plans with the city to build a mixed-use project with 450 residential units at 2014 Fairview Ave., where the Denny Center retail/office property operates. The project will total 420,000 square feet and occupy the irregularly shaped parcel south of the Mirabella retirement community.
Officials of Bosa Properties did not respond to a request for more information. The company builds high-rise residential projects as well as commercial and retail developments, according to its website.
This area of Seattle has attracted the attention of other Canadian developers as well. The 2014 Fairview site is kitty-corner from the former Seattle Times' headquarters, where the Onni Group, also of Vancouver, is planning a four-tower, 1,910-unit residential/retail project. The Insignia project is five blocks west of 2014 Fairview.