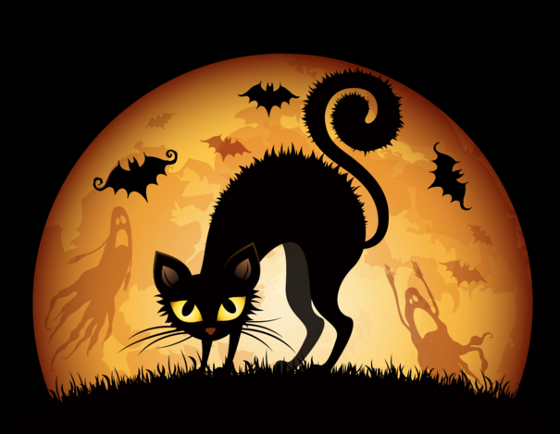 1) Halloween Is The Second Highest Grossing Commercial Holiday After Christmas
What used to be just a singular holiday with minimal things to purchase has turned into an entire "Halloween Season." Between decorative lights and lawn ornaments, elaborate costumes and loads of candy, the average American spends a pretty penny on this fall holiday. However popular Halloween has become, the recession has affected spending for this year's spooky night. Spending is down, according the the National Retail Federation. Shoppers will spend an average of $56.31 on the holiday compared to $66.54 in 2008. Some ways people are cutting down include making homemade costumes, using last year's decorations and buying less expensive candies. For the children's sake, let's hope everyone doesn't resort to giving out apples and pennies. Didn't you just hate that as a kid?
2) Harry Houdini Died On October 31, 1926
The famous magician was killed (accidentally) by a McGill University student named J. Gordon Whitehead who was hitting him in the stomach repeatedly as part of a stunt. A week later he died of peritonitis from a ruptured appendix. Despite acute appendicitis, Houdini refused to seek medical treatment.
3) There's A Phobia For That
Samhainophobia is an intense and persistent fear of Halloween that can cause panic attacks in sufferers. Other relevant phobias for this time of year: wiccaphobia (fear of witches), phasmophobia (fear of ghosts), and coimetrophobia (fear of cemeteries).
4) The First Jack-O-Lanterns Weren't Made Out Of Pumpkins
They were originally hollowed-out turnips. The modern practiced mutated from the Irish tradition of carving faces of the the dead onto the gourds and putting candles inside to make them glow. These days your Jack-O-Lantern is most made out of a pumpkin, which most likely came from Illinois--a state that grew 542 million pounds of pumpkin in 2007.
5) One Quarter Of All The Candy Sold Annually Is For Halloween Night
Yes, no matter how much we eat for Christmas and Thanksgiving, Halloween has corned the market on candy. As a country we consume 20 million pounds of candy corn a year. Handing out Halloween treats is the perfect excuse to eat some too, as four-in-ten (41%) adults admit that they sneak sweets from their own candy bowl. And if you're a kid, hang on to your basket, because home is where the candy thief is as 90% of parents admit to sneaking goodies from their kids' Halloween trick-or-treat bags. But whether your stealing some, handing out some or having yours stolen, chances are you'll get your hands (or miss getting your hands) on a Snickers bar, it has been the number 1 Halloween candy for years.