Avoid common landscaping disasters and learn how to fix them.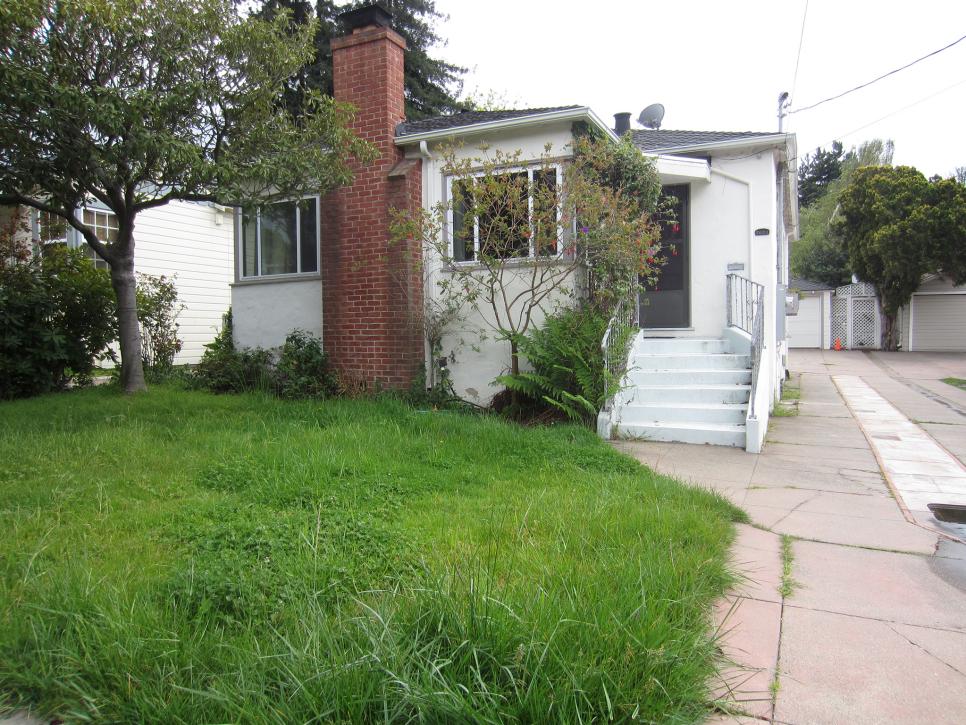 Mistake: Neglecting Curb Appeal
Never underestimate the power of curb appeal. A lot of homeowners put all of their energy into the backyard, but the front of the house is where first impressions are made.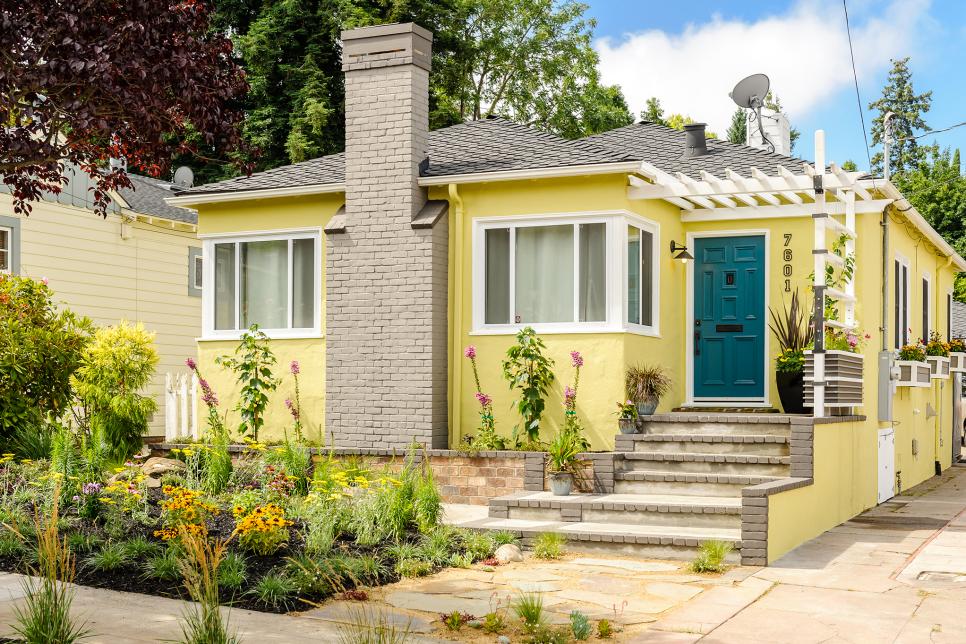 Solution: Keep Three Things in Mind
There are three simple improvements you can make that make a big difference out front. Paint your door a contrasting color than what is at the base of your home, keep the grass trim and green and plant colorful flowers. See more amazing curb appeal makeovers.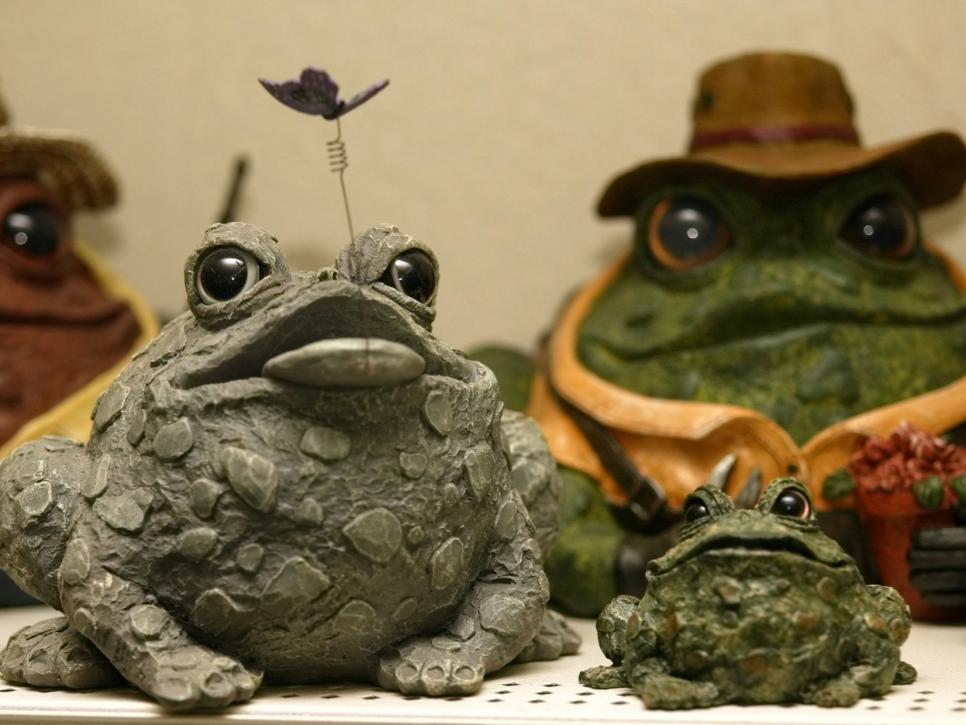 Mistake: Excessive Lawn Ornamentation
People often make the mistake of putting too many decorative items in their front yard, which can be a distraction from the beauty of the natural landscape.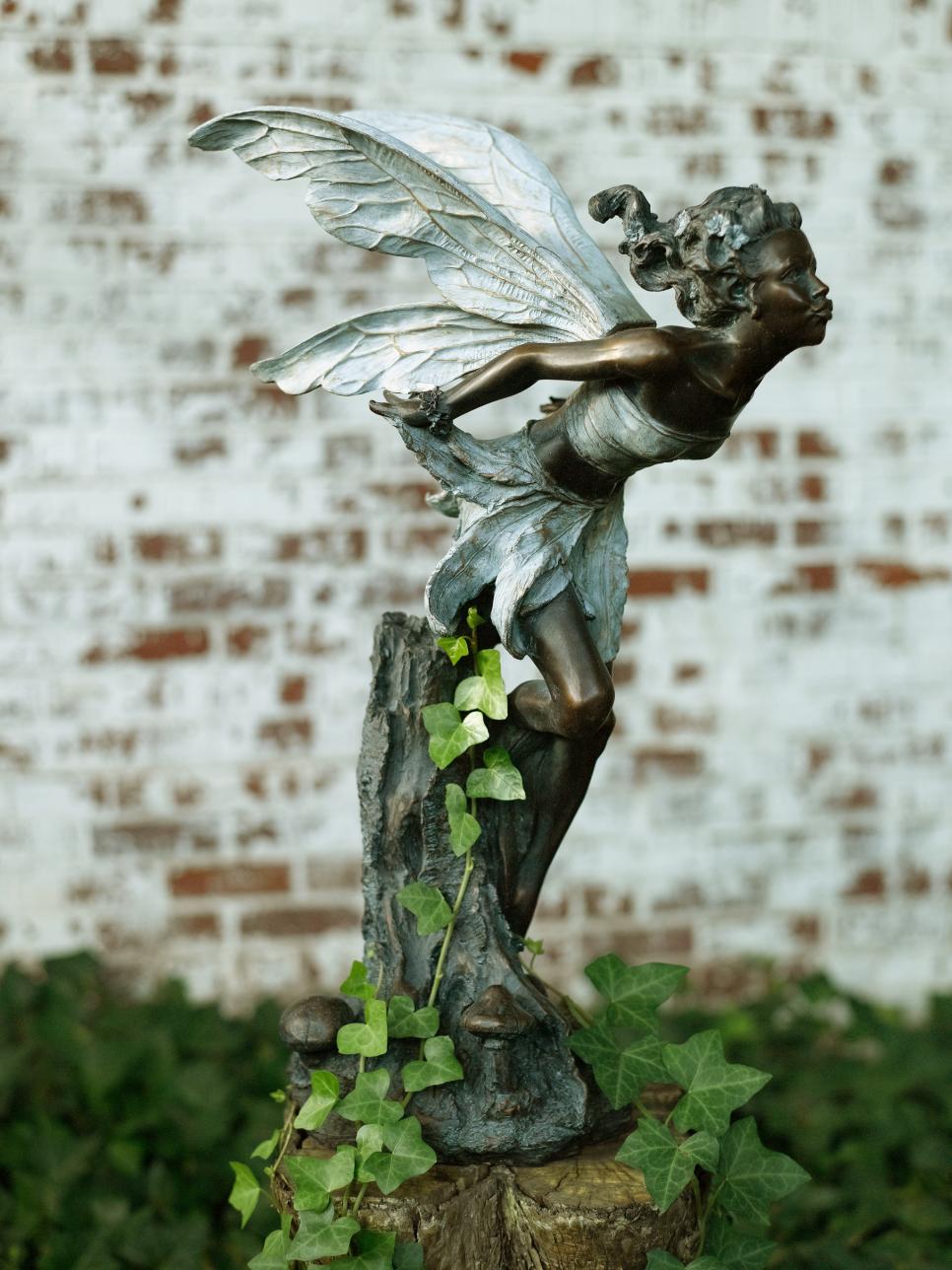 Solution: Be Selective
Before setting out that lawn ornament, ask yourself why are you putting it there and how it fits the context of your overall design and plant materials. Stick with one crisp choice, even if it is a little silly. One little whimsical statement goes a lot further than 10.
Photo Credit: Photo by Angela West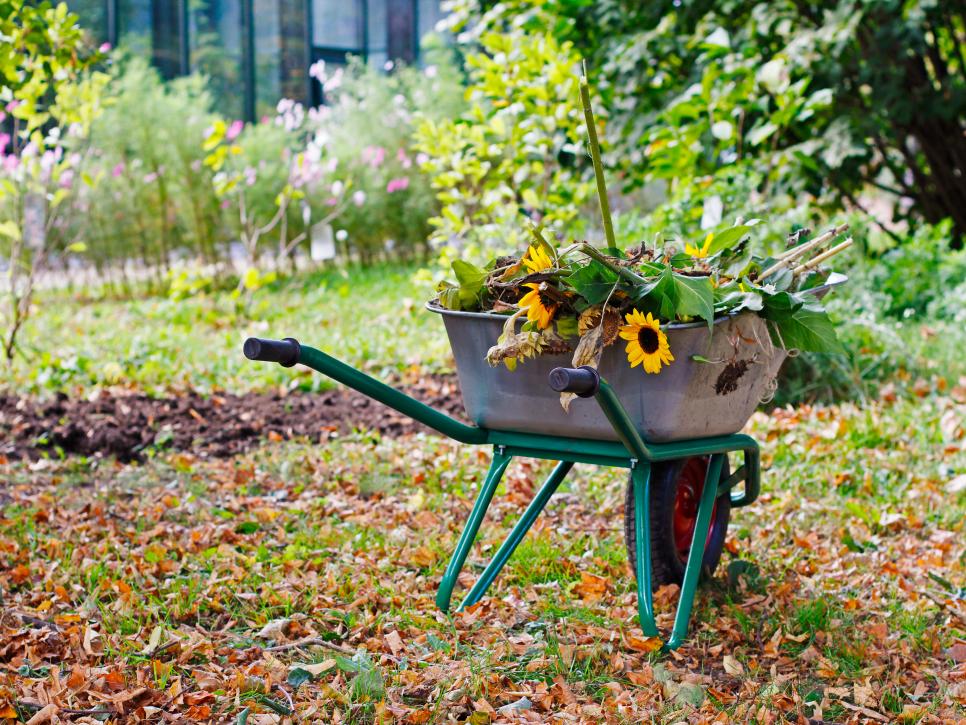 Mistake: Forgetting to Recycle
Yard projects tend to produce a good amount of waste, which most people don't realize when they set out to do the work.
Photo Credit: © iStockphoto/yulyao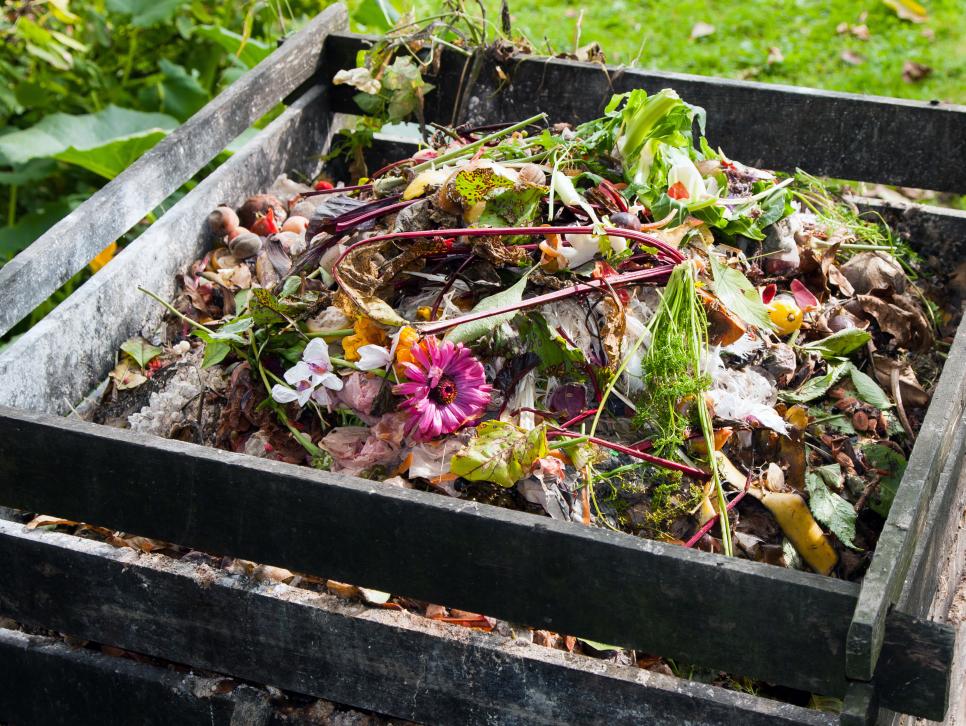 Solution: Compost It
Instead of tossing out the branches, clippings and other debris, dispose of them in an eco-friendly way. Rent a shredder and turn them into mulch, and put lawn clippings back on the lawn — they are both great fertilizers. Another idea is to create a compost pile. Compost containers have gotten more attractive. Some almost disappear into the landscape.
Photo Credit: © iStockphoto/piotr_malczyk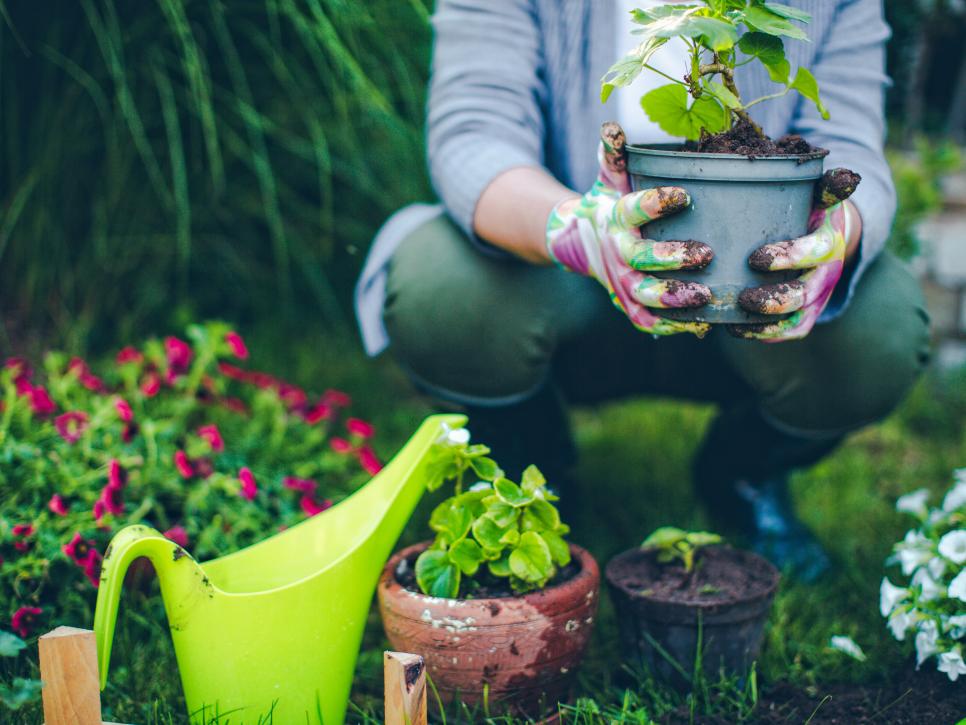 Mistake: Planting in the Wrong Place
Improper plant placement is another common mistake. People often do not take into consideration the proper sunlight and exposure for their plants.
Photo Credit: © iStockphoto/AleksandarNakic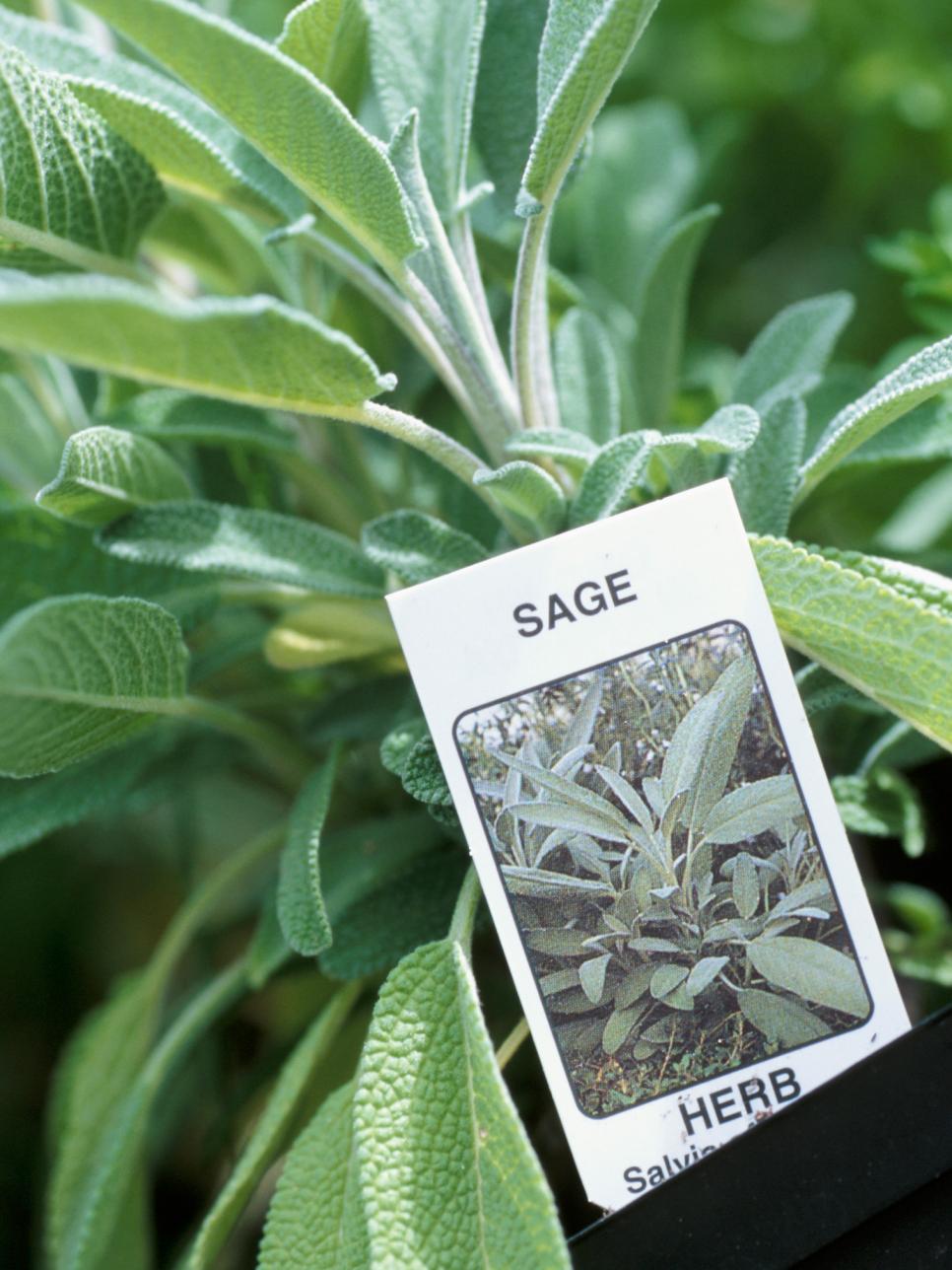 Solution: Read the Plant Tag
Be sure to pay attention to the little tag that you get when you buy the plant. When it comes to planting trees, you need to remember how big they could get and how much space they are going to need. Also think about focal points — choose something that's going to look good year-round.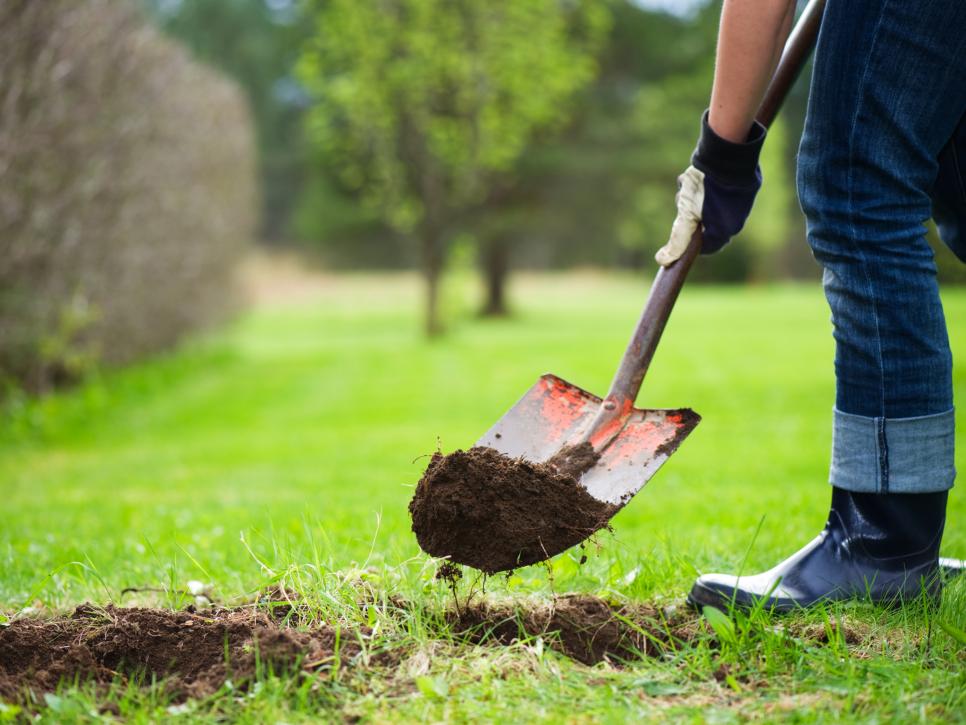 Mistake: Planting Too Deeply
One of the quickest ways to kill a tree is to plant it too deeply. Some folks figure the more soil they can put around it, the better. But doing so can actually choke the tree to death because there is no air allowed to go to the root system. Going too deep can also encourage root rot.
Photo Credit: © iStockphoto/Eerik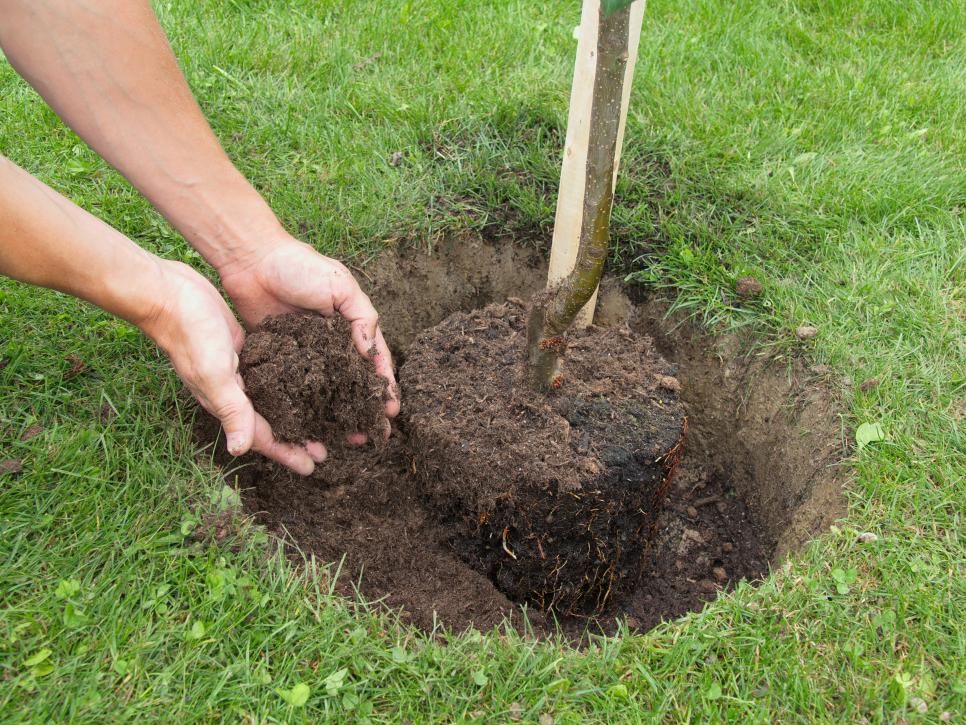 Solution: Match the Depth
Avoid these scenarios by looking at the main stem, where the largest branch is and then where all of the tentacles come out. That's the root ball, and that's what you want to meet, right along the surface. A good rule of thumb with plants is to dig to the actual height of the container in which it came.
Photo Credit: © iStockphoto/Schlegelpictures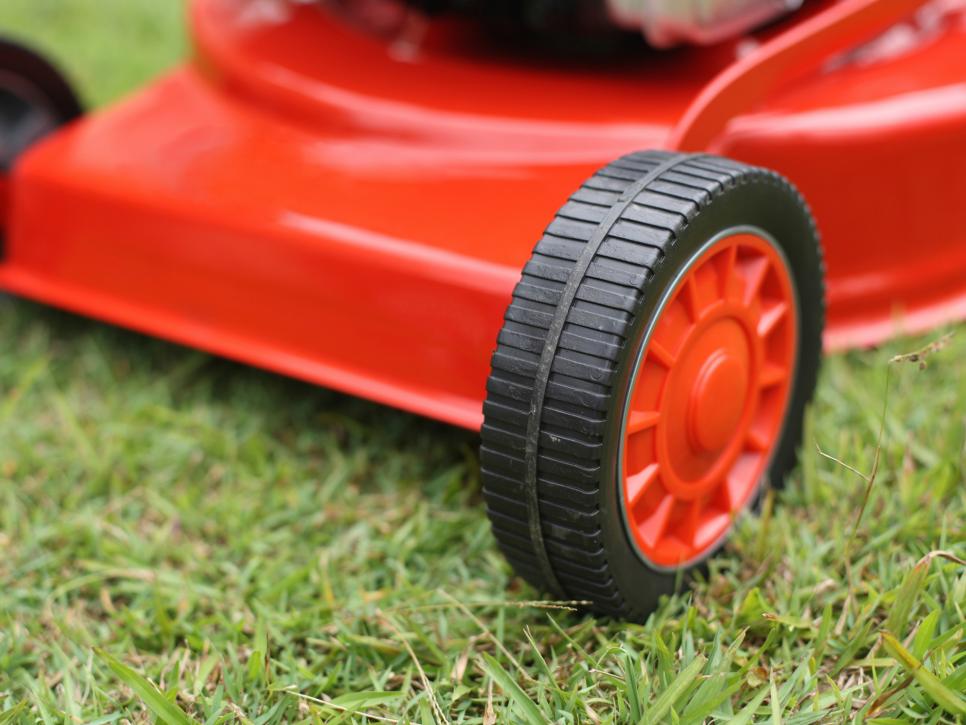 Mistake: Cutting Grass Too Short
It's a common myth that cutting the grass shorter means you have to mow it less. That's actually not the case, and you can do more harm than good. If you scalp the lawn, it could result in a bare patch, which could make it too inviting for insects and/or susceptible to disease.
Photo Credit: David Freund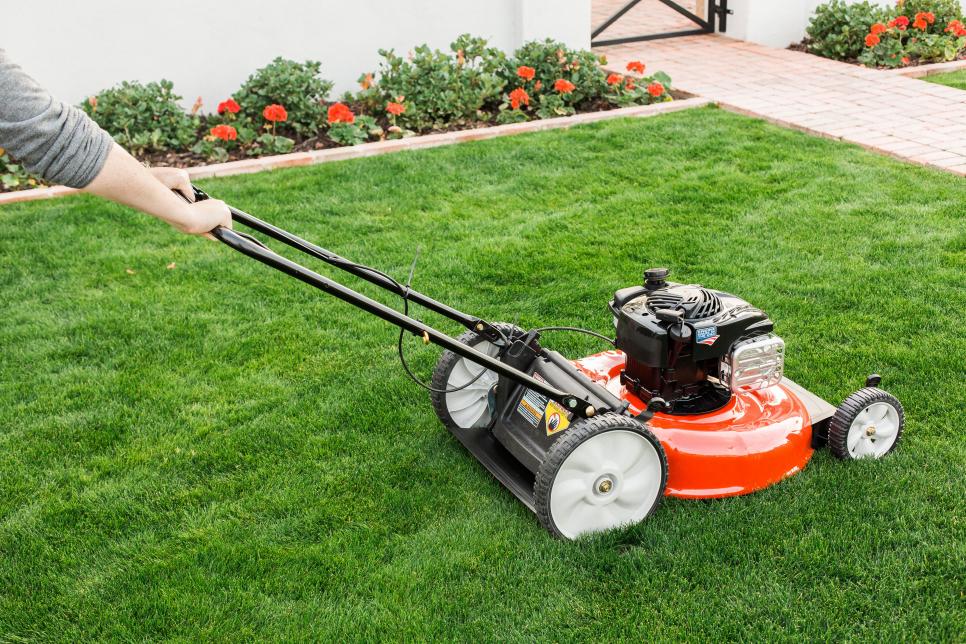 Solution: Switch It Up
The key is to cut the lawn different lengths throughout the year. During the summer, the lawn needs a little more shade, so let the blades grow just a little bit more. That way the water doesn't evaporate so quickly. During the winter, cut it a little bit shorter so that the sunlight can actually get into the soil.
Photo Credit: Flynnside Out Productions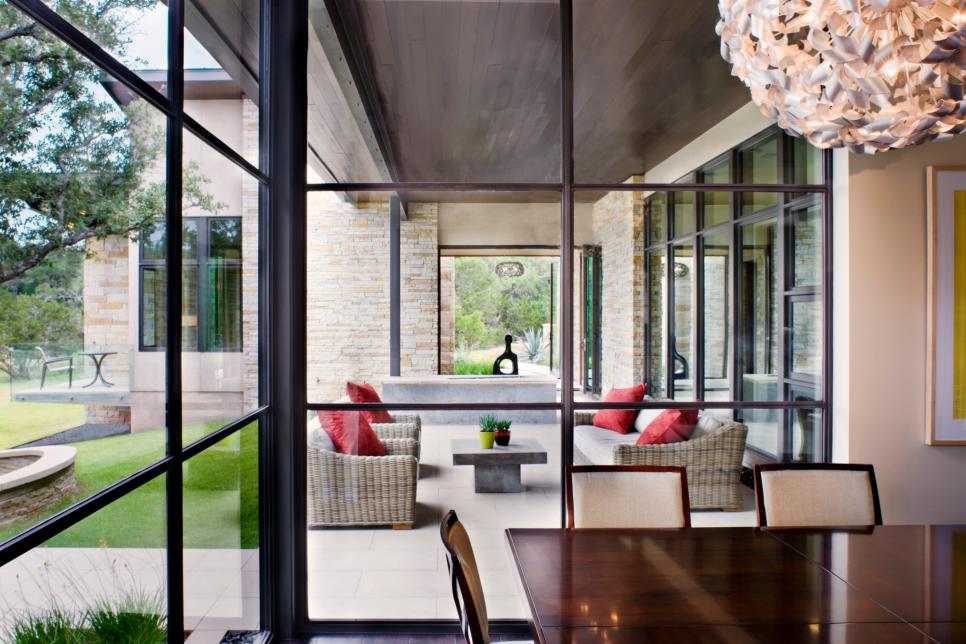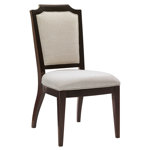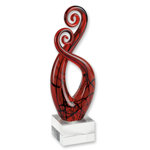 Mistake: Forgetting the View From Your Window
It may seem like common sense to think about the view from inside the house, but a lot of people forget it. Keep in mind what it looks like from all angles.
Photo Credit: COLES HAIRSTON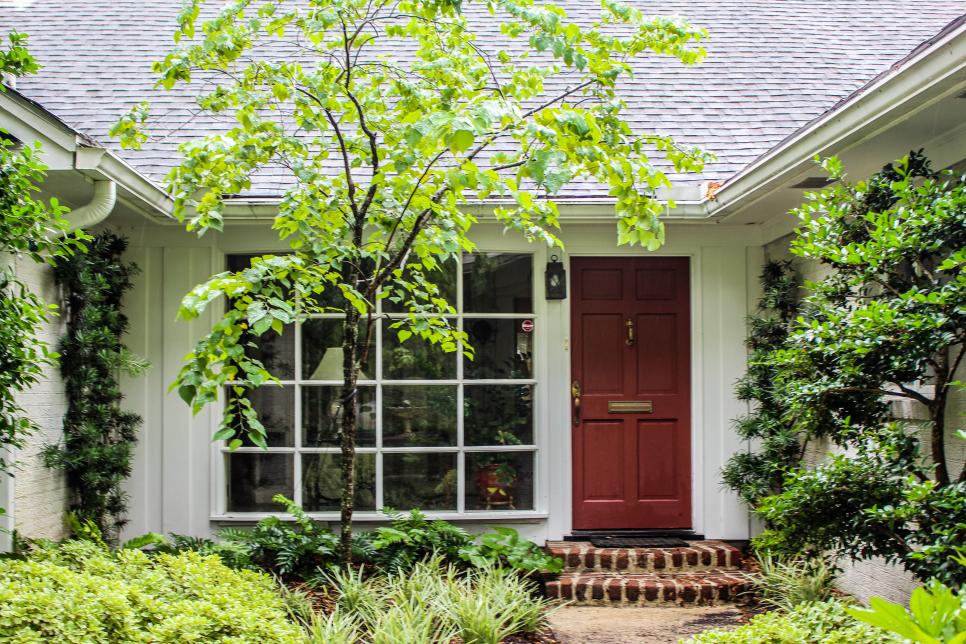 Solution: Enhance Your View
Place your containers where you want them, and then go inside and look through every major window to see what they'll look like before you plant. It should be like a painting. When you look out, you should see the glass framed with beautiful trees and foliage.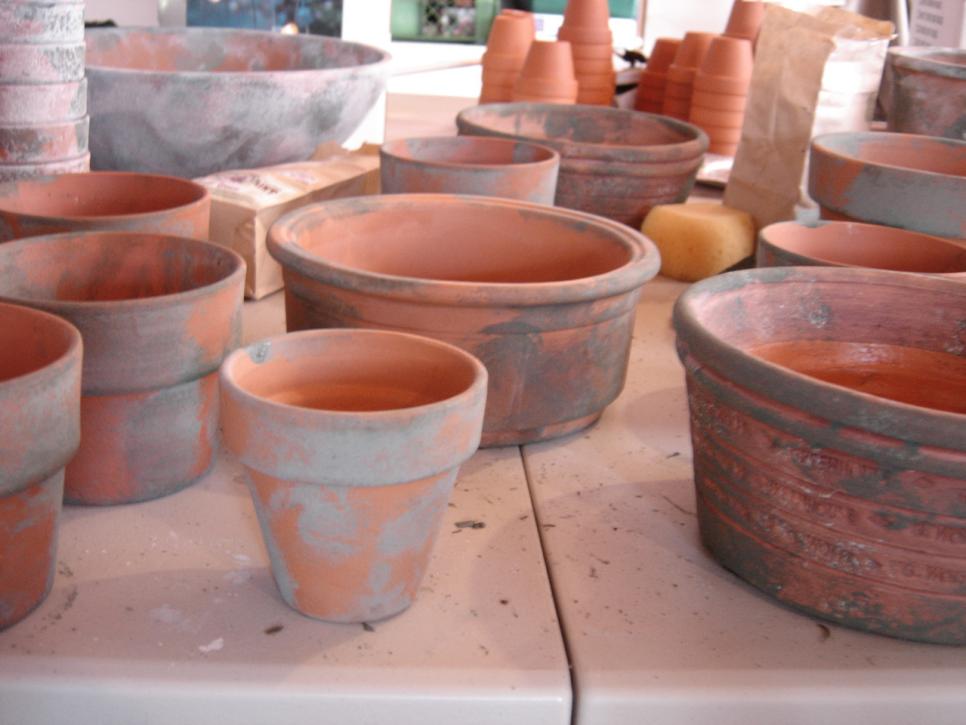 Mistake: Using the Wrong-Size Pots
If you put a plant in a pot that is too large, it can shift, sink down into the soil, get too much water or dry out too fast. Small pots will quickly become rootbound.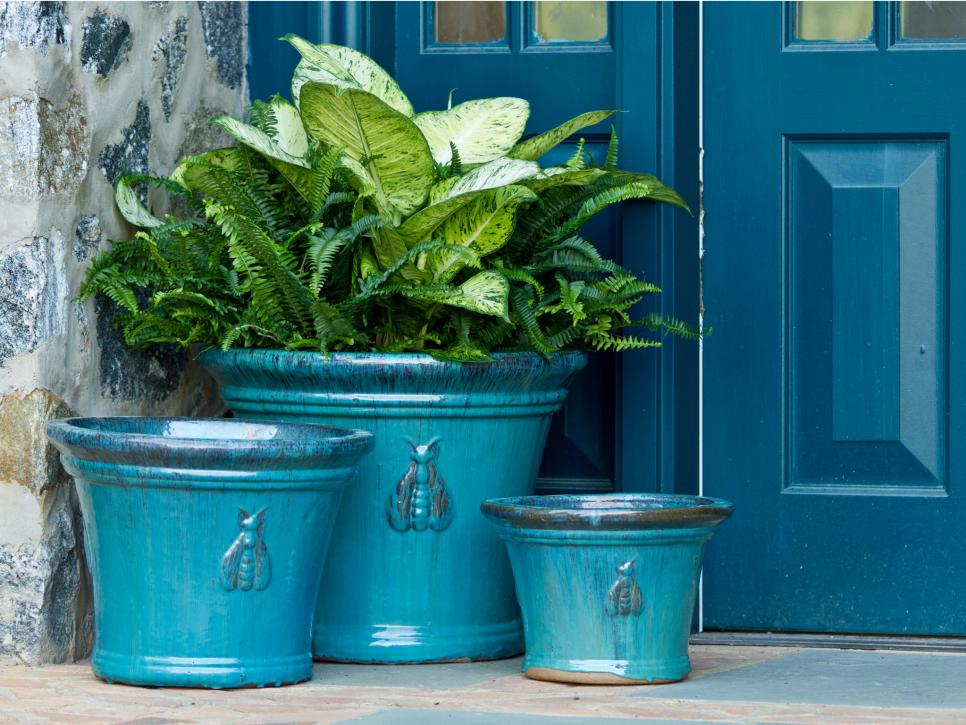 Solution: Start Small
Remember that you are going to have to re-pot it, eventually. It's easy to tell when that's necessary because little roots begin to stick out at the bottom. A word of caution related to re-potting: Be sure to give a plant plenty of time get acclimated to its new pot before re-potting again.
Photo Credit: Image courtesy of potterymarketnc.com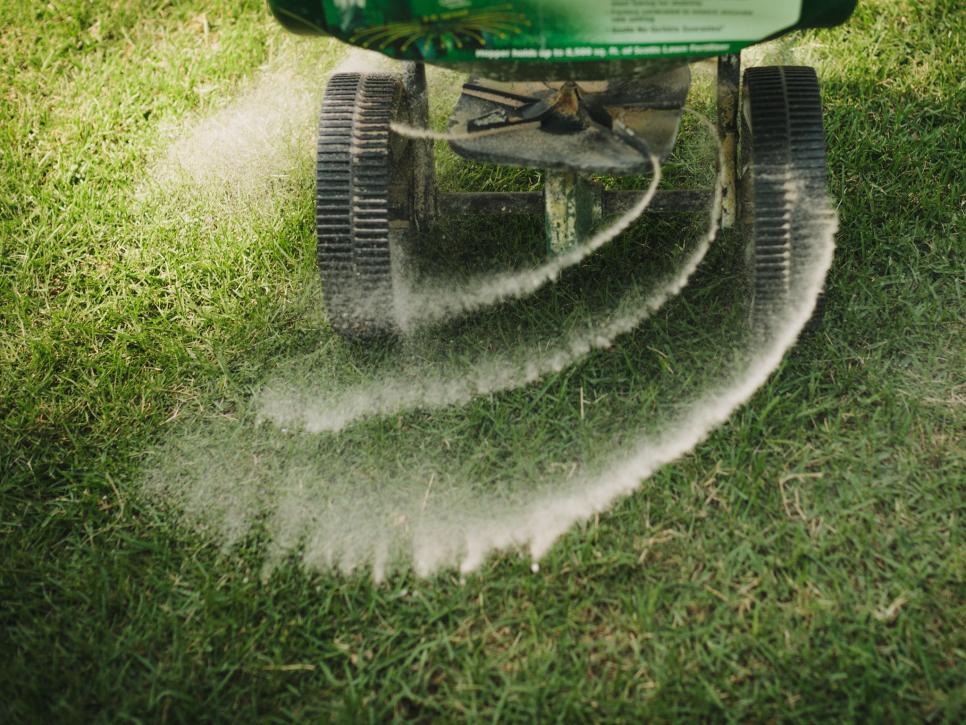 Mistake: Failing to Fertilize Properly
There are two ways that fertilizing can be a mistake. The first one is not doing it at all. The other is fertilizing too much or fertilizing improperly.
©Scripps Networks, LLC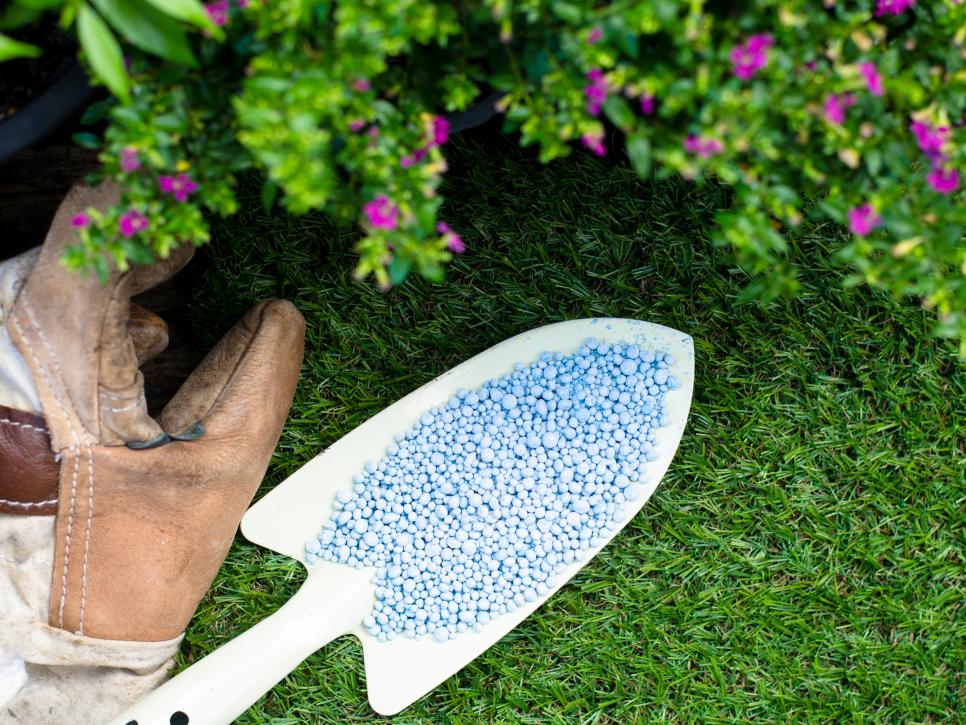 Solution: Fertilize With Caution
Ask someone at your garden center to recommend a proper fertilizer for your yard. It's a good idea to
do it at least twice a year
, once in the spring and again in the fall. You should never do so in the bright sun, and watering always needs to follow. It's also a good idea to mix in fertilizer when planting new plants. Make sure that, when you dig the hole, you mix in new soil and fertilizer so the plant, over the period of a year, is going to have a nice time release of fertilizer.
Photo Credit: © iStockphoto/Singkham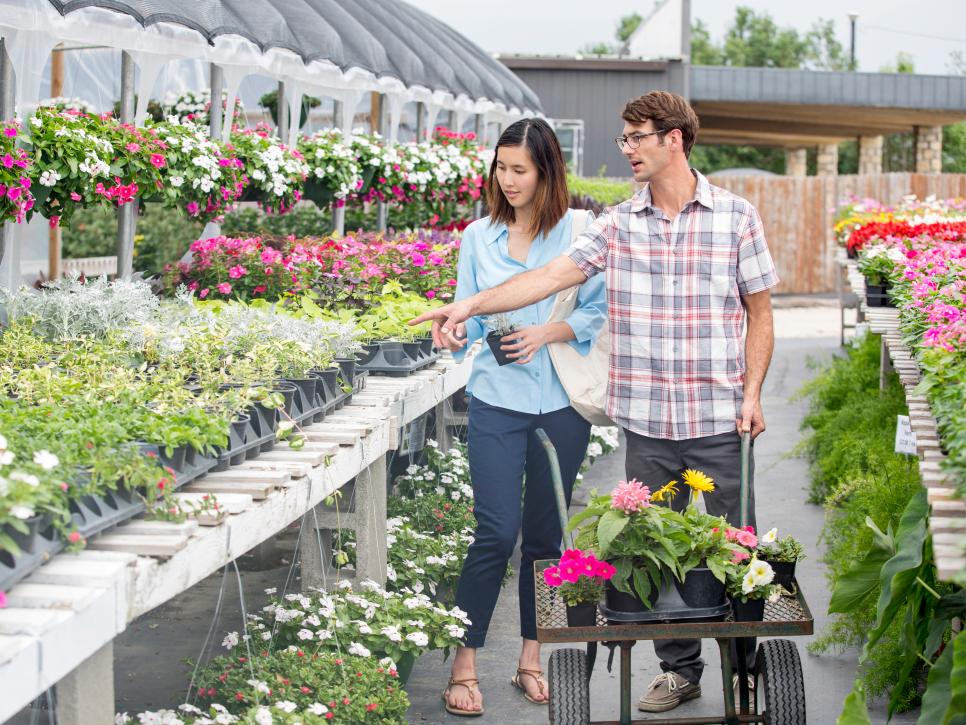 Mistake: Picking the Wrong Plants
Just because a plant looks pretty doesn't mean it actually belongs in your yard. You have to take into consideration your particular backyard, with filtered light or shade, and what's going to work best for you.
Photo Credit: © iStockphoto/Steve Debenport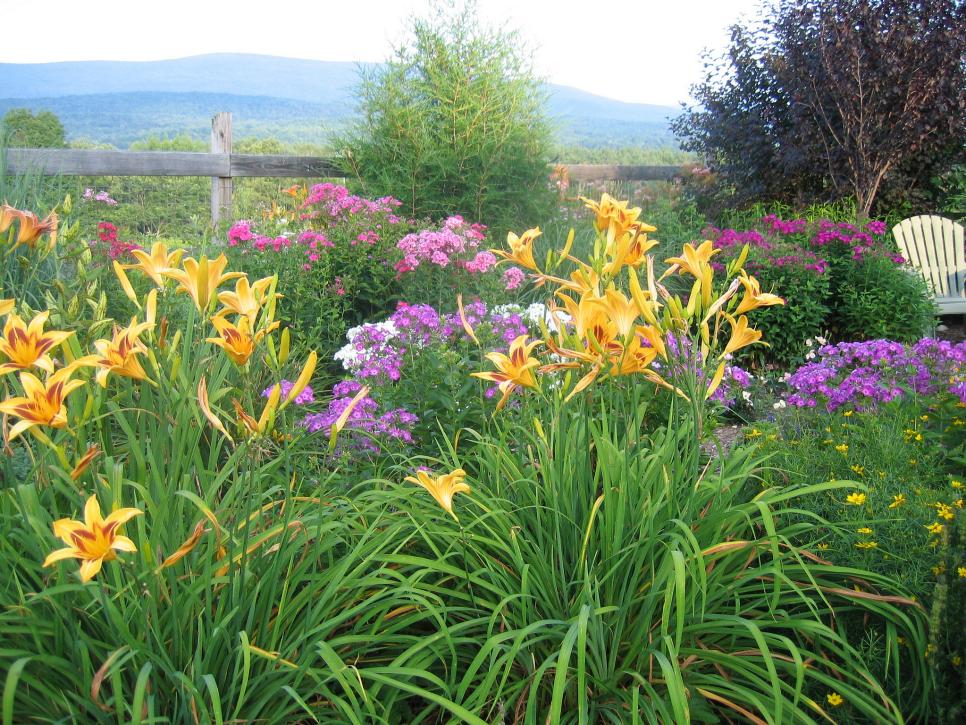 Solution: Know Your Yard
Check for plants that would work well in your space. If it's a really hot, sunny spot, maybe you want to go with a succulent. Or, get a great landscaping book for your area to help you figure out what to plant and when, as well as how and when to fertilize.
Photo Credit: Photo courtesy of Anthony Tesselaar Plants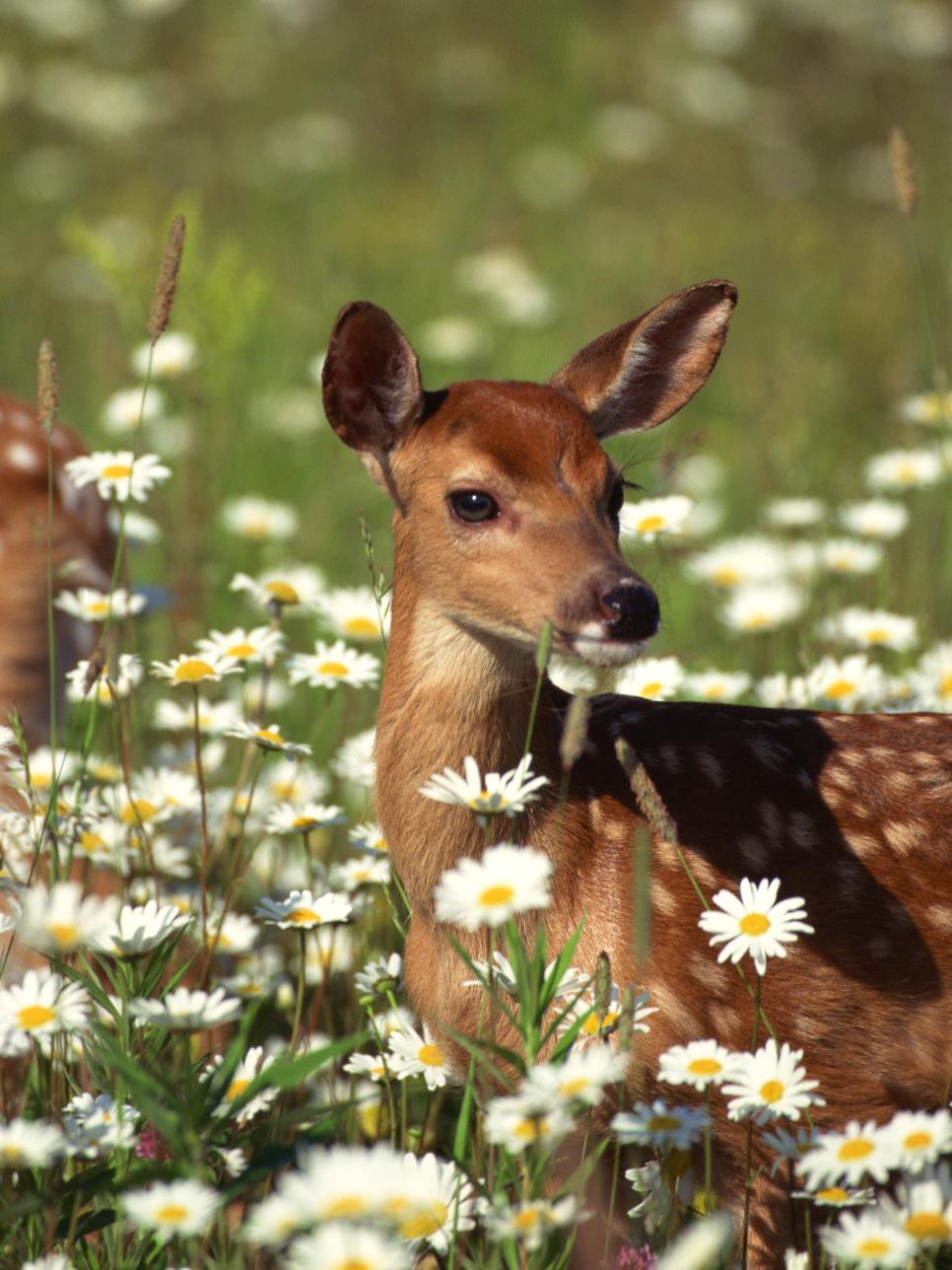 Mistake: Not Accounting for Wildlife
You could be planting a buffet rather than a garden if you don't consider what animals or garden pests might be around.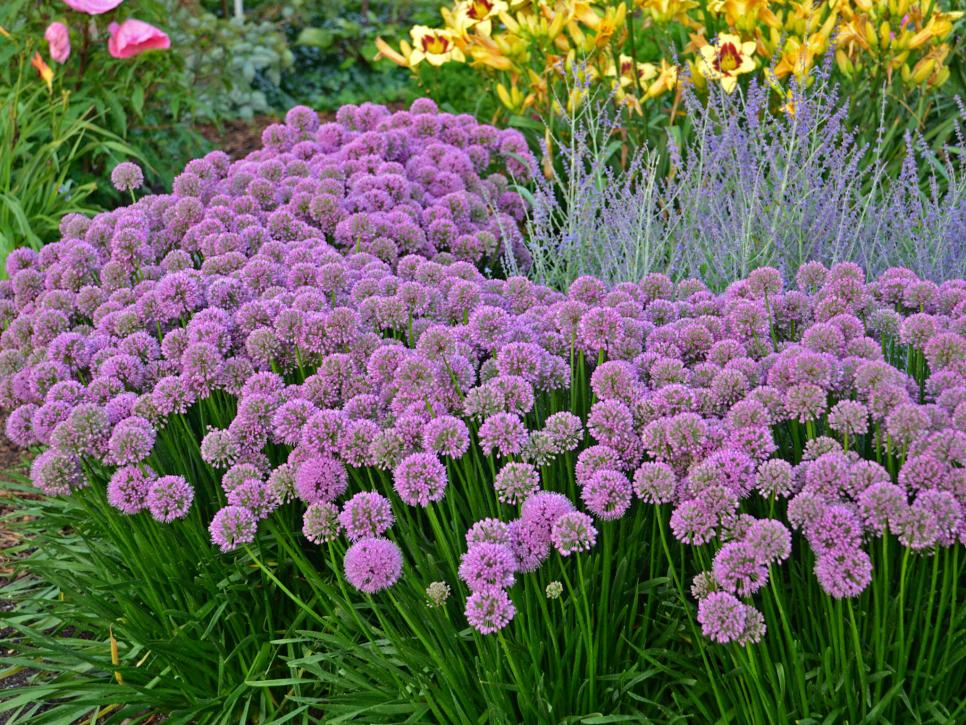 Solution: Plant Things Critters Hate
Before you decide what to plant in your garden, think about what pests you have in relation to what you'd like to plant. For example, pretty flowering plants can attract deer, so you might want to throw in some bitter-tasting ones among them. Once they taste the wrong one, they are likely to stop coming around. If there are wild rabbits around, you may need to shelter your garden bed by building a small fence. Chicken wire is another option.
Photo Credit: Walters Gardens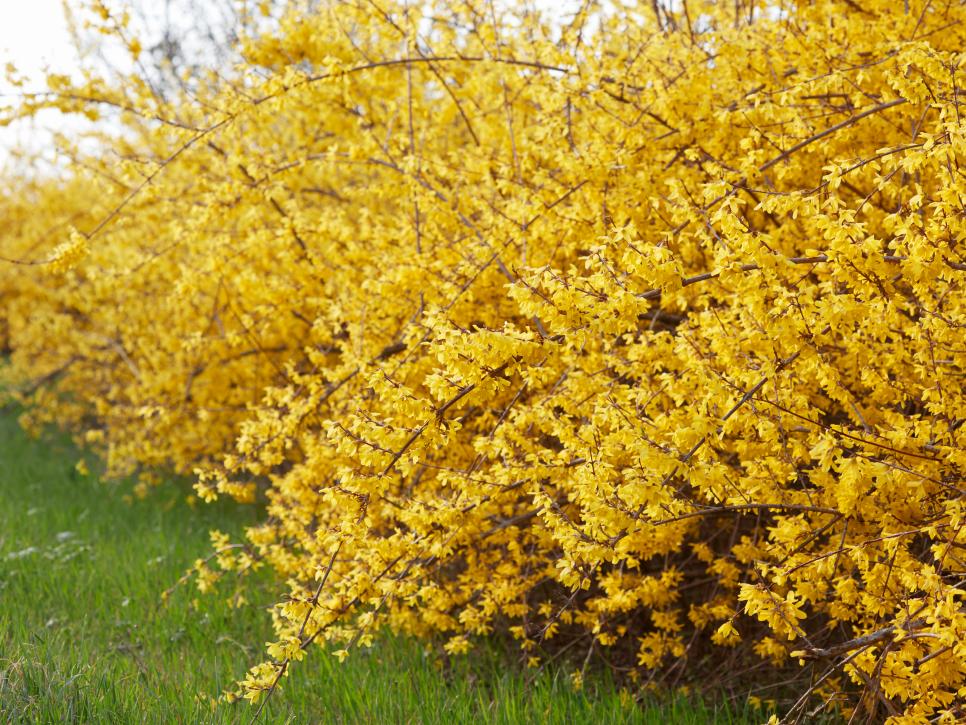 Mistake: Being Shortsighted
Being shortsighted is a common problem because many people don't know what the eventual growth of their plants will be. You need to find out how they spread, how they reproduce and what type of maintenance they require.
Photo Credit: © iStockphoto/AndreaAstes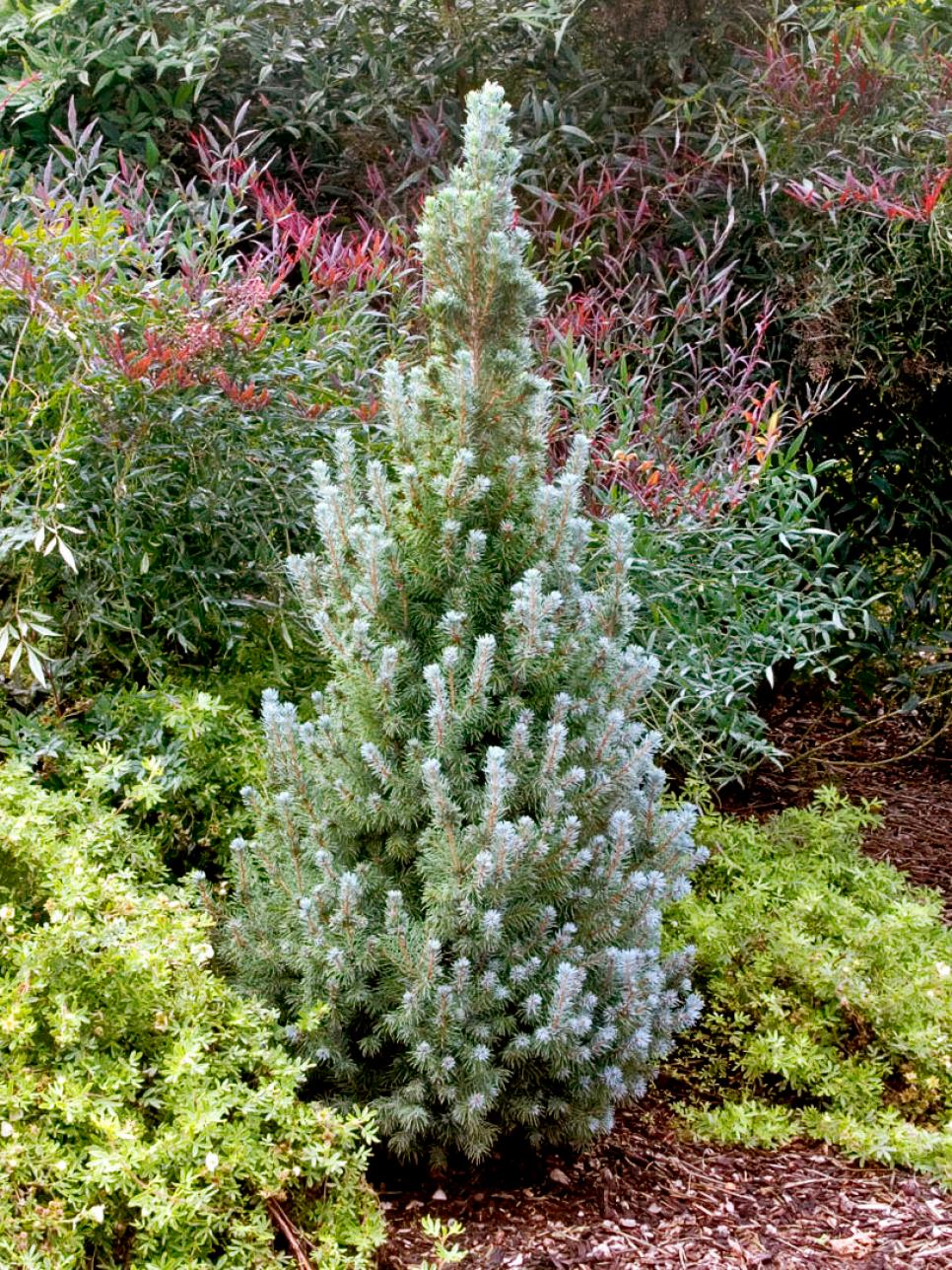 Solution: Do Your Research
Read the plant tags, ask an expert at the garden center or look up information online to find out how big and how fast a certain plant will grow.
Photo Credit: Image courtesy of Monrovia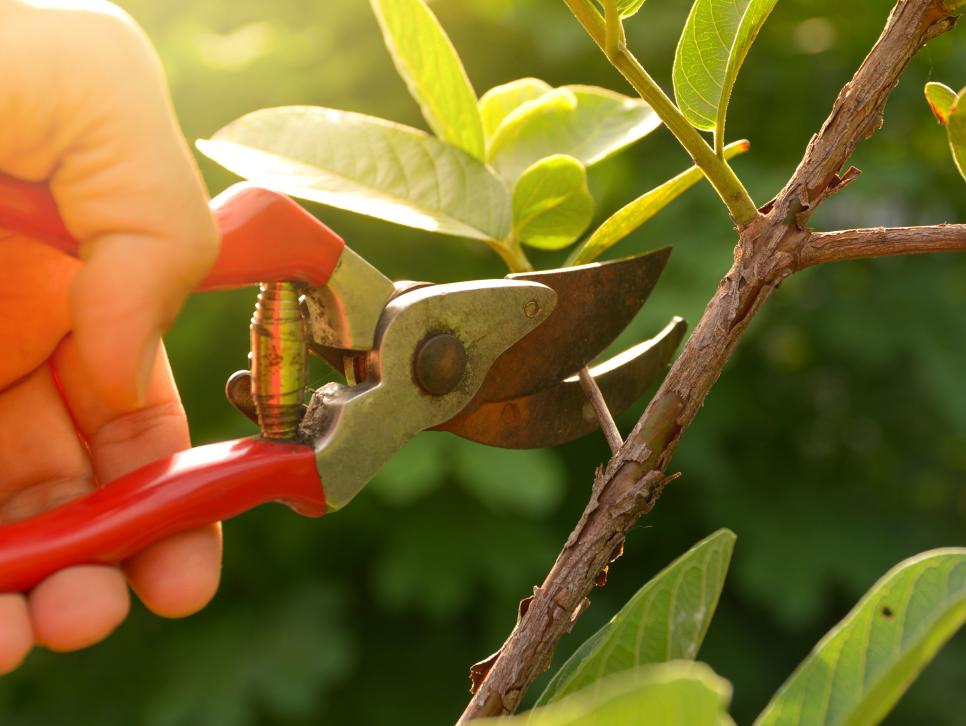 Mistakes: Improper Pruning
Pruning
can be just as much of an art form as it is a technique, but when pruning is improperly done, you can do more harm than good. In fact, in some cases, it's better not to prune at all than to do it improperly.
Photo Credit: © iStockphoto/kirisa99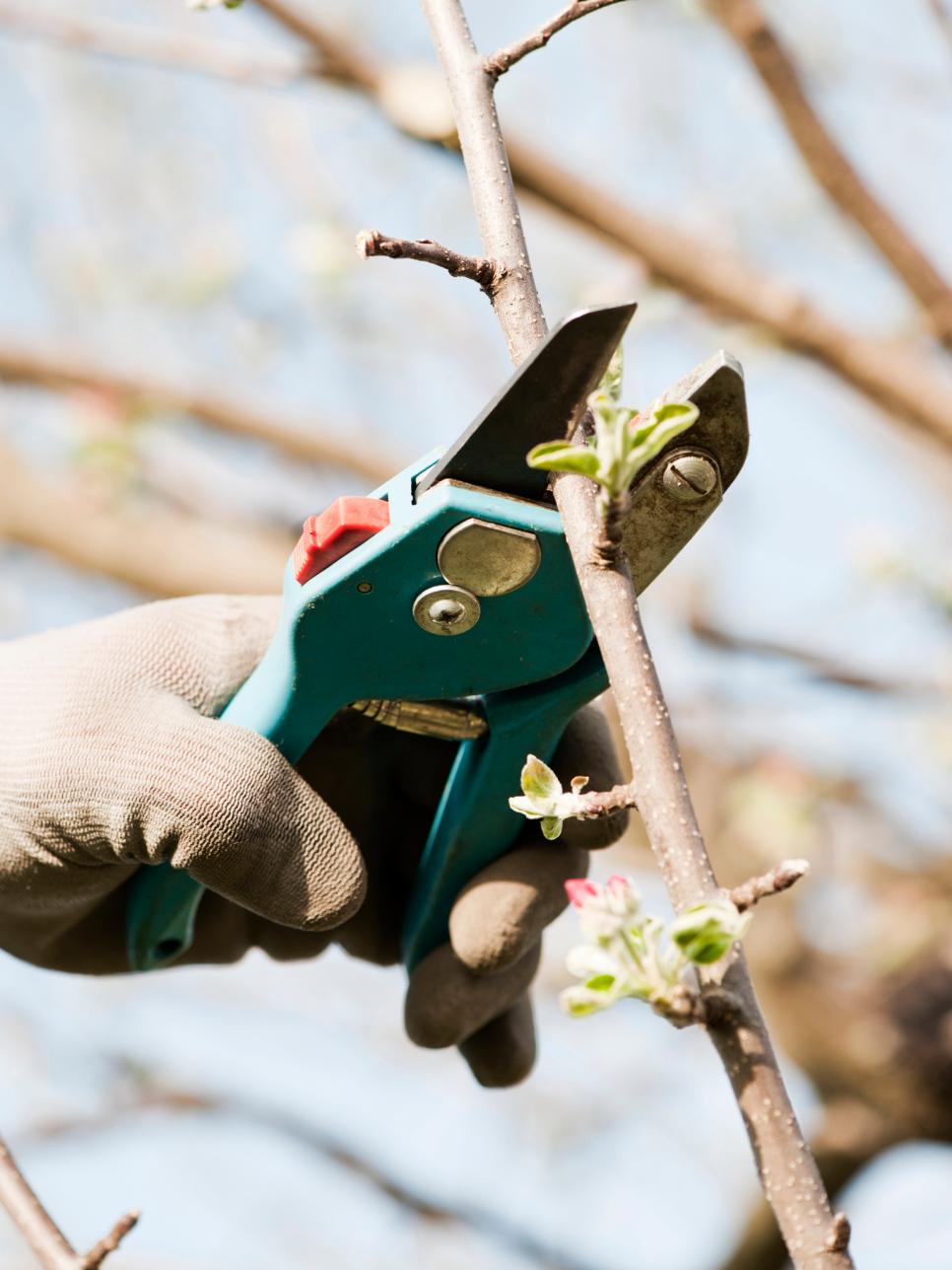 Solution: Prune With Caution
Every plant has a different pruning process. Fall and winter are usually some of the best times to prune, but research each plant in your yard to make sure.
Photo Credit: © iStockphoto/vitranc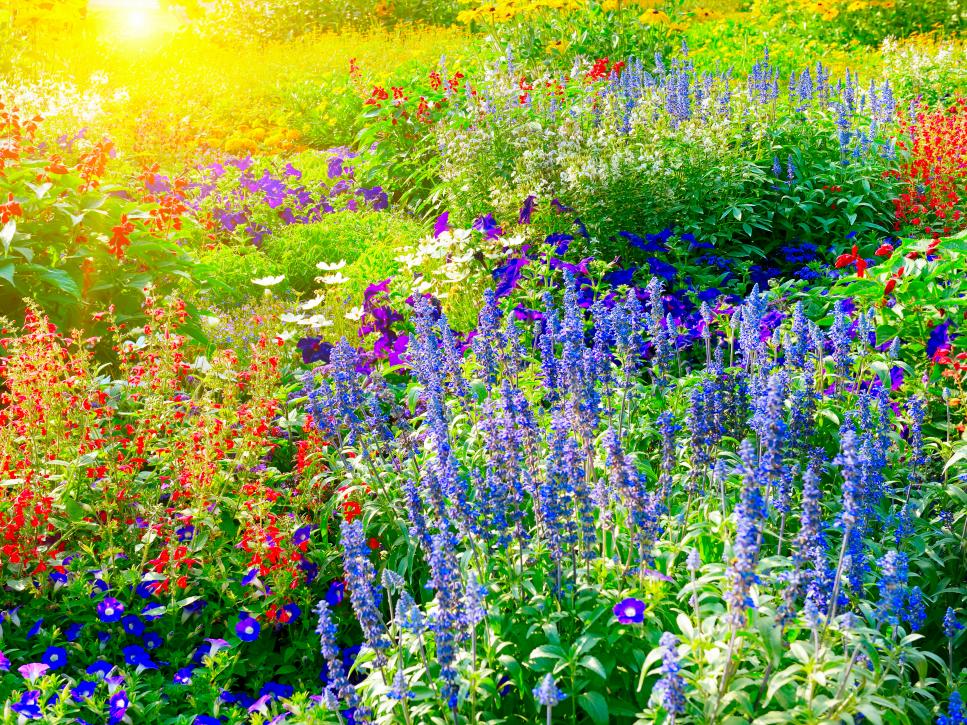 Mistake: Scattered Color
Too much color without a sense of harmony can become a distraction.
Photo Credit: © iStockphoto/Serg_Velusceac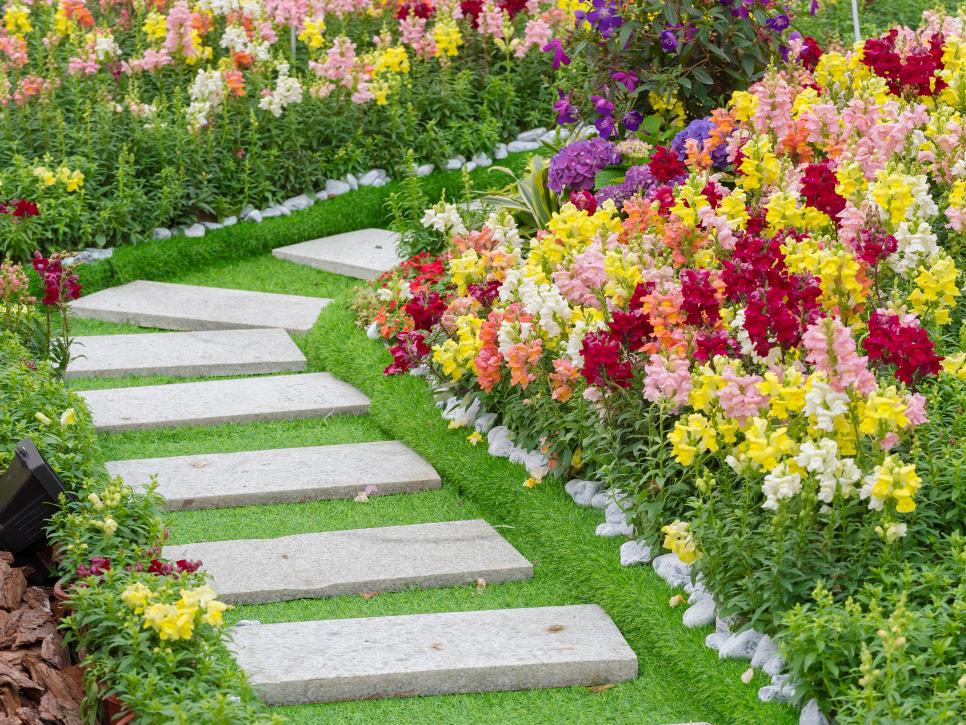 Solution: Create a Palette
Before making a trip to the nursery, you need to know what palette you'd like as well as which colors work well together. Look at the color of your house and then choose one color that really frames it. Try to stay semi-monochromatic for the most part because if there is too much color and it's too strong, it almost can become a distraction. Repetition and some harmony in a garden goes a long way.
Photo Credit: © iStockphoto/LeeYiuTung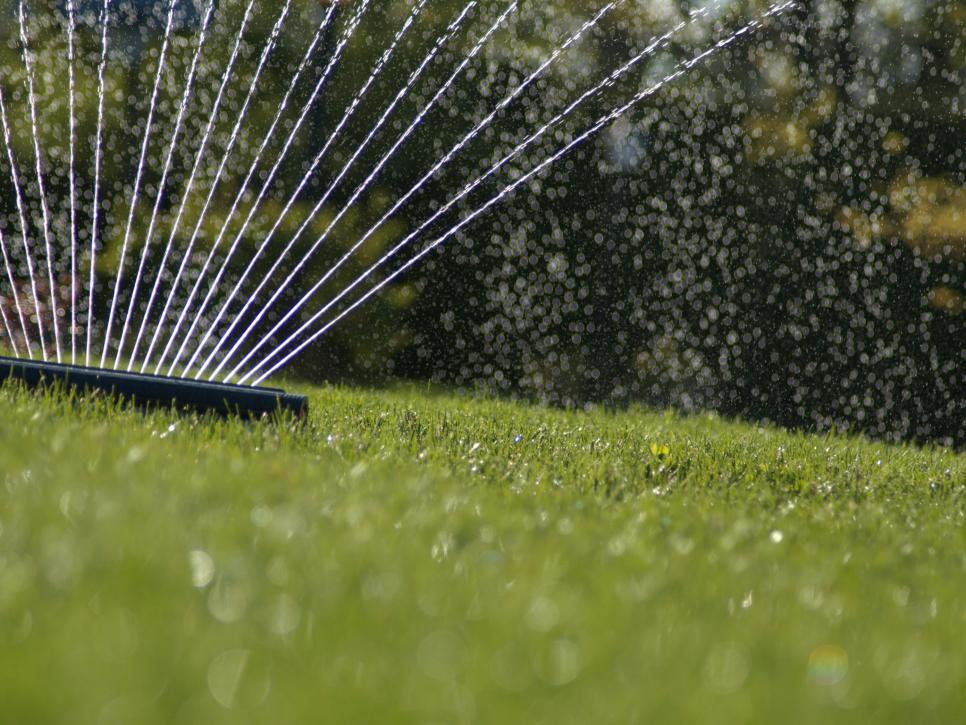 Mistake: Irrational Irrigation
A lot of homeowners make the mistake of over-watering. Most lawns just need about an inch of a water per week.
Photo Credit: Steve Simzer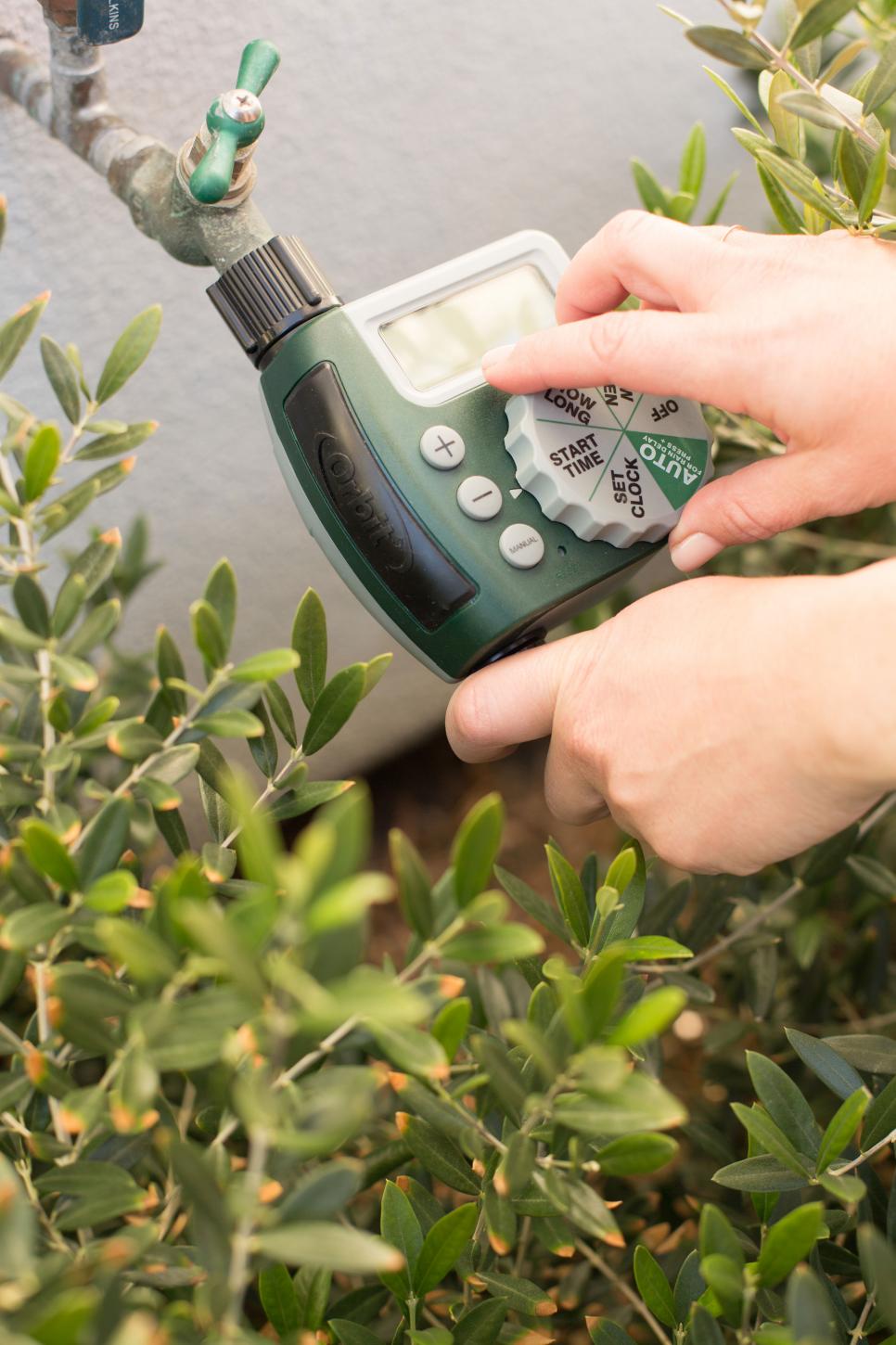 Solution: Timely Watering
The best time of day to water the lawn (and usually any plant) is early morning so it has all day to dry. You can buy a sprinkler with an automatic timer to reduce water waste, or even put in an irrigation system.
Photo Credit: Flynnside Out Productions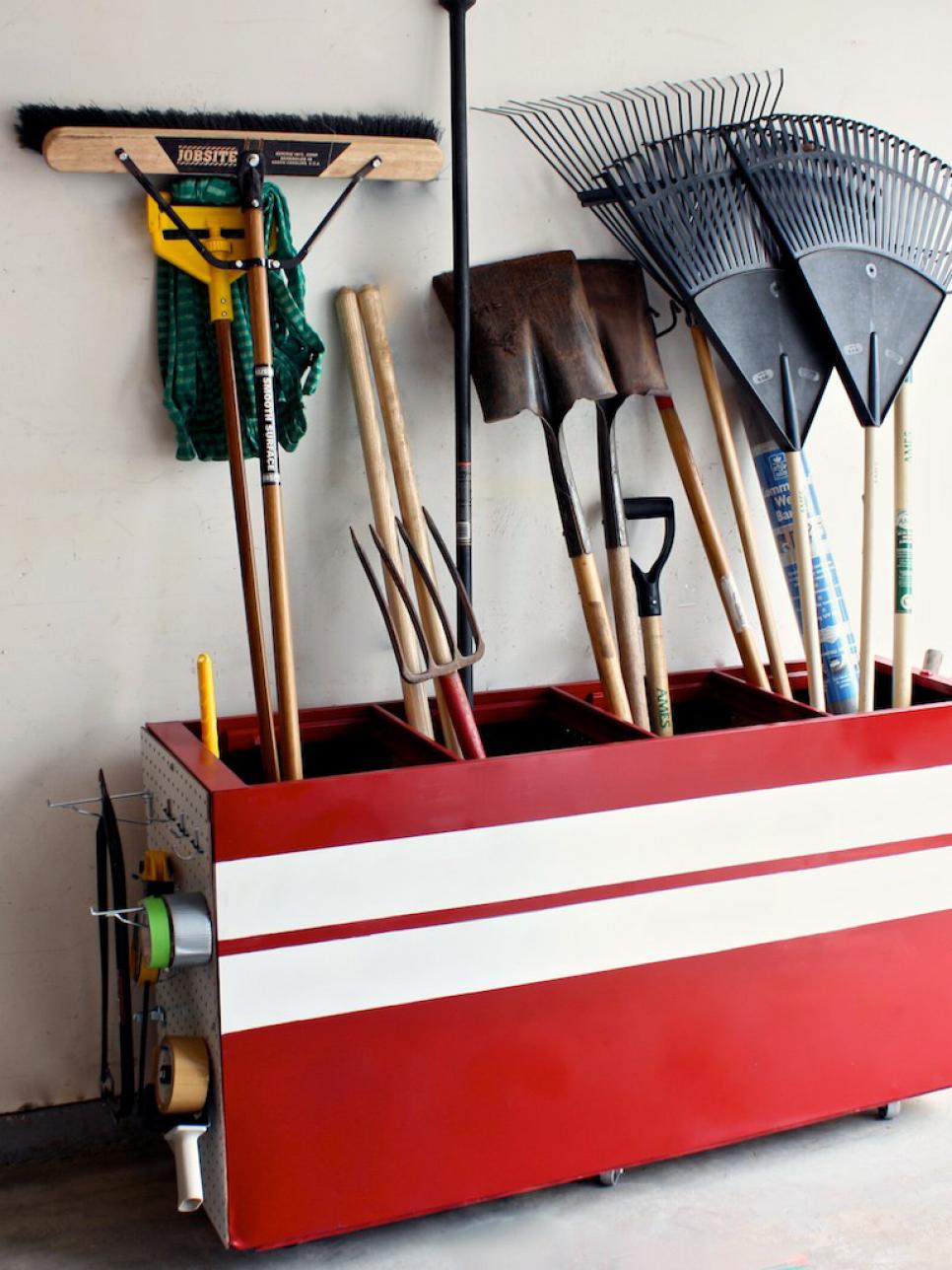 Mistake: Using the Wrong Tool
Using the wrong tool for the job could be inefficient and maybe even dangerous.
Photo Credit: Haydee Letonja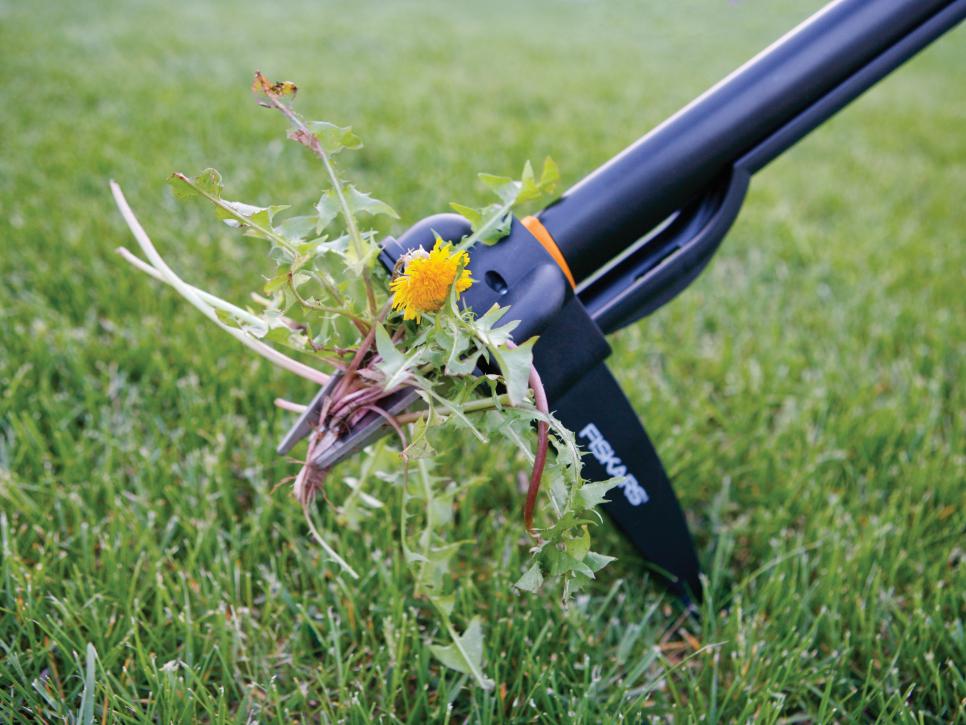 Solution: Get to Know Your Garden Tools
Think about the size of the job and dictate the size of the tool accordingly. Some must-haves are safety goggles, gloves, a solid shovel and a good rake. Keep them organized, and keep them clean. For specialty jobs, you might want to consider renting a tool, and not just power equipment, but hand tools. Maybe you don't need that tool for the rest of your life, but you need it for that one specific job.
Photo Credit: Fiskars
More Photos After This Ad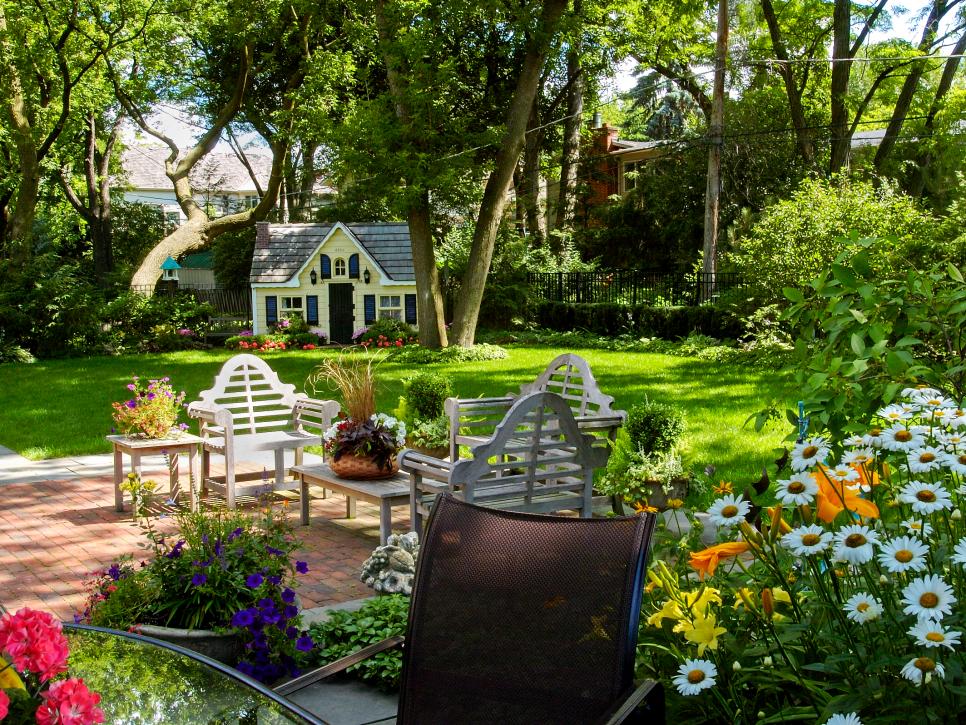 Mistake: Failing to Be Family Friendly
A lot of people get carried away with the theme of their yard. They don't think about how they are going to use the lawn or the area — they just think about how they want it to look. For example, a rock garden is really attractive, but probably not the best thing for a family with small children.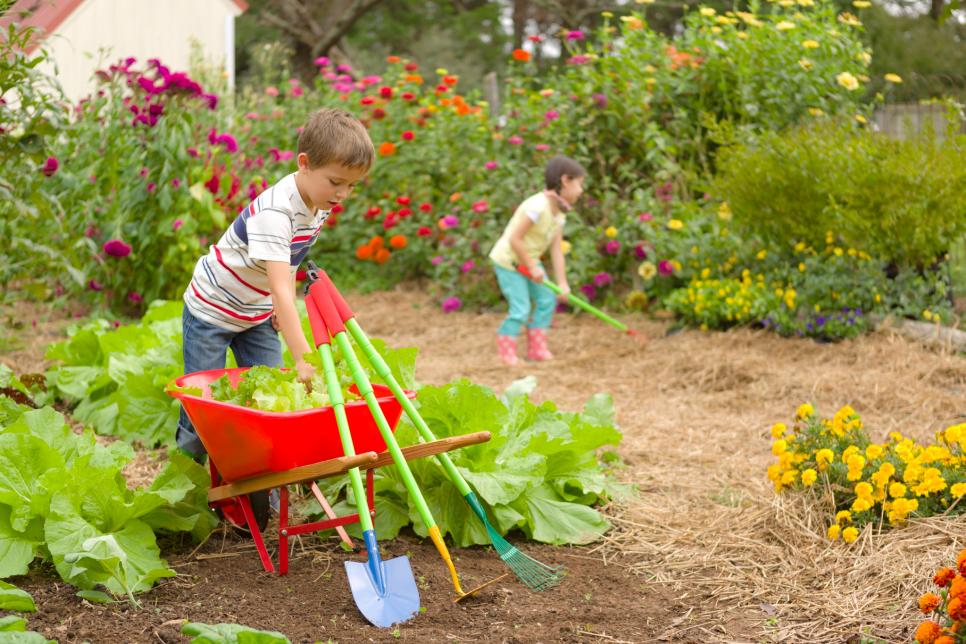 Solution: Think About Functionality
Sit down and make a list of what you want to do in your yard, making sure to look at the needs of everyone in the household.
Photo Credit: Hearthsong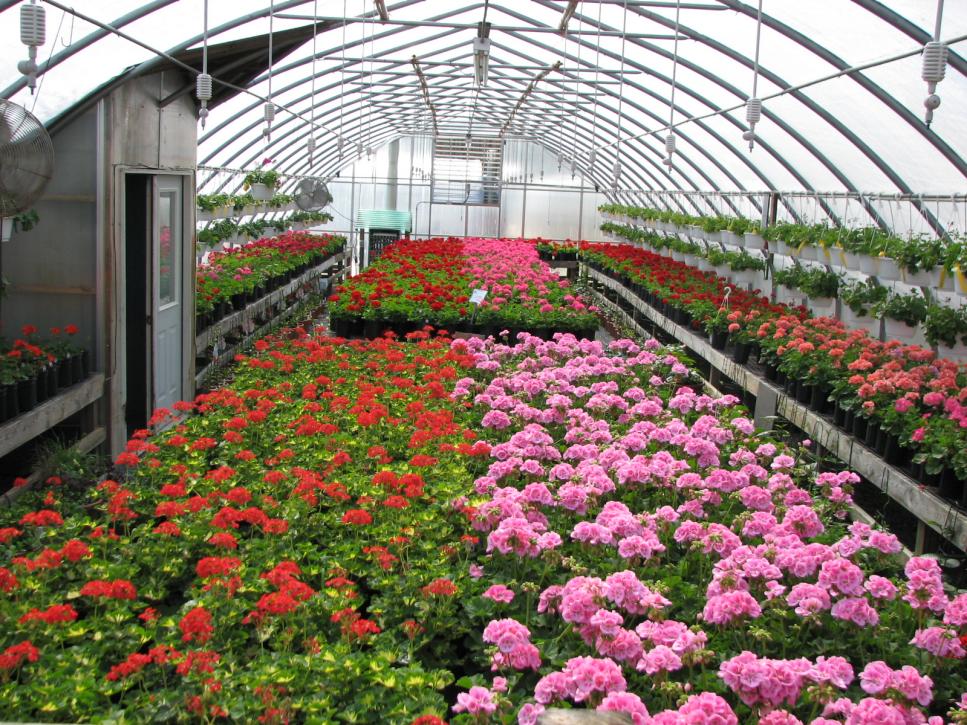 Mistake: Impulse Buying
Buying plants without a plan.
Photo Credit: Image courtesy of East Coast Garden Center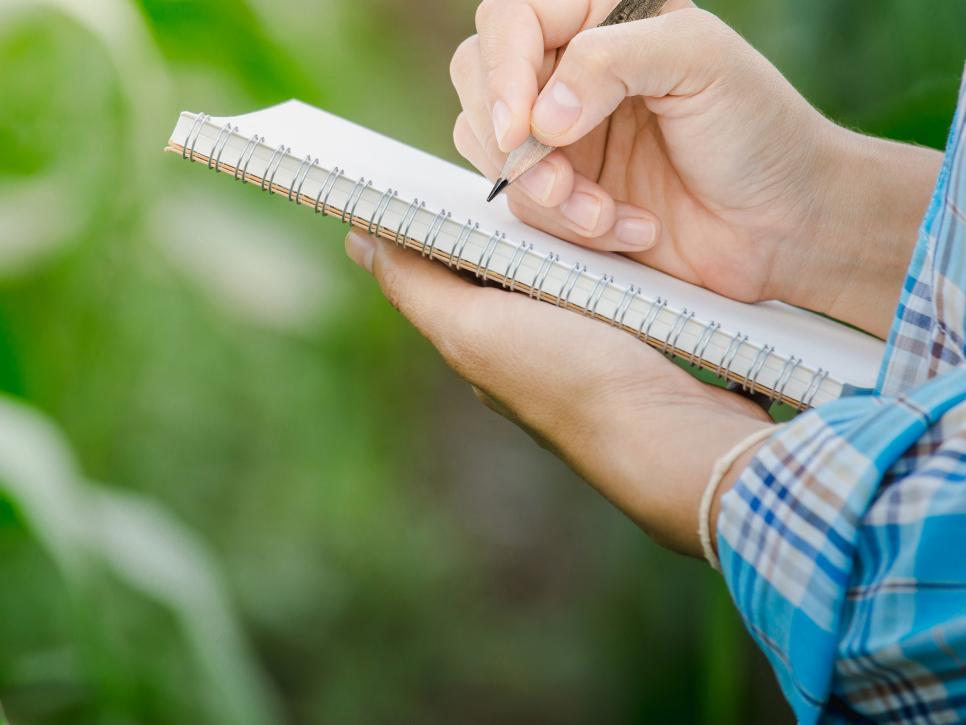 Solution: Make a Shopping List
Do a little research before you reach and grab plants at a garden center. Have some sort of a shopping list in mind and then get what you want and leave. It's very hard to return flowers, so this step is imperative.
Photo Credit: © iStockphoto/lamyai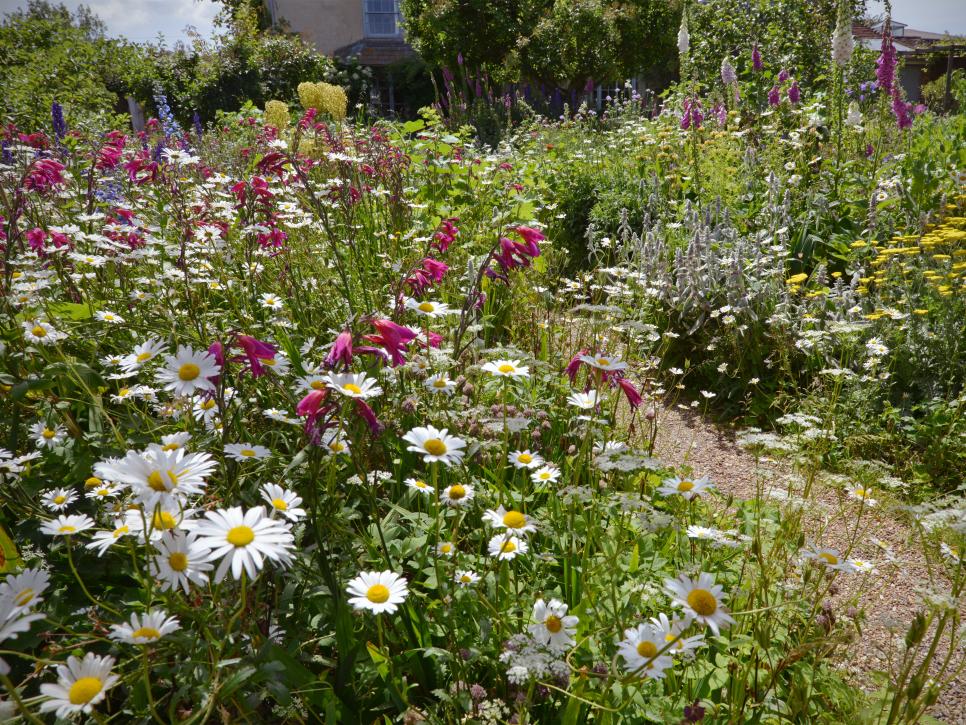 Mistake: Too Much of the Same Thing
No variety in the garden can invite disease and leech nutrients out of the soil.
Photo Credit: © iStockphoto/oversnap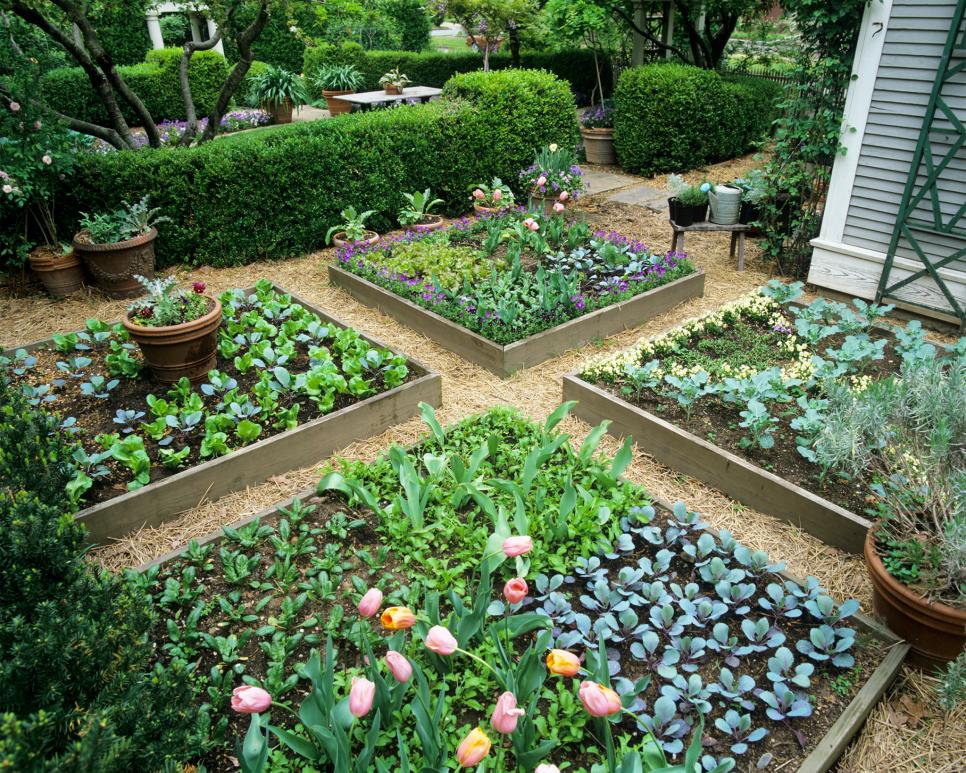 Solution: Mix It Up
Intermingle various shapes and sizes of plants to create visual interest and bring in the right kind of insects. Certain plants need certain nutrients. If you plant just one type of plant, they could suck all of those nutrients out of the soil.
Photo Credit: Photo by Jane Coclasure courtesy of P. Allen Smith.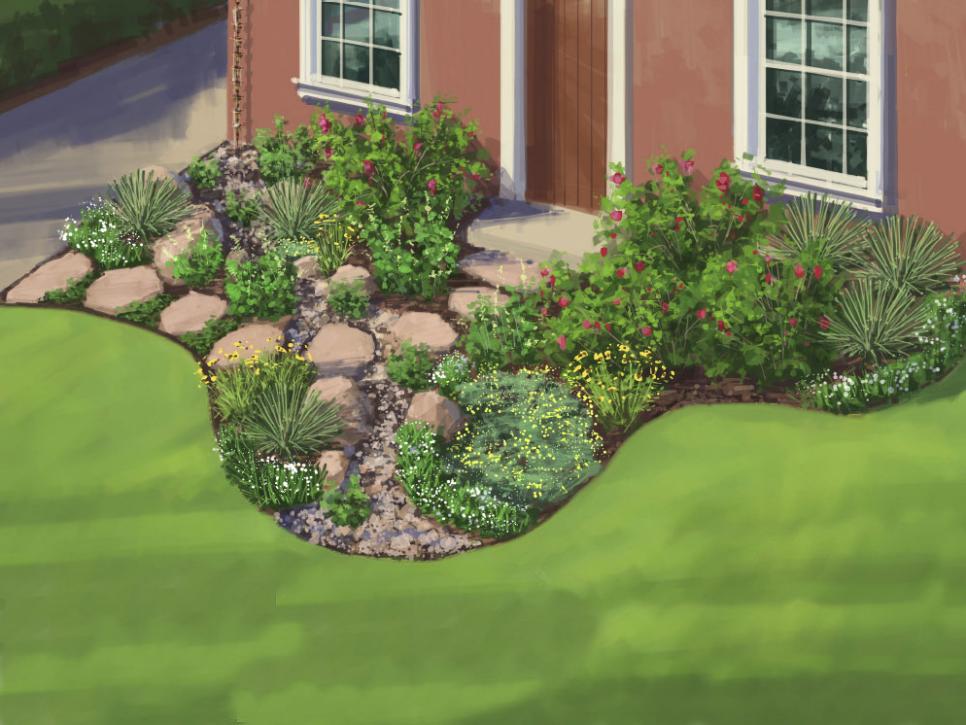 Mistake: Not Having a Plan
Starting a landscaping project without a plan.
Photo Credit: Landscape plan by Leah Gardner/Illustrations by Simutis Illustrations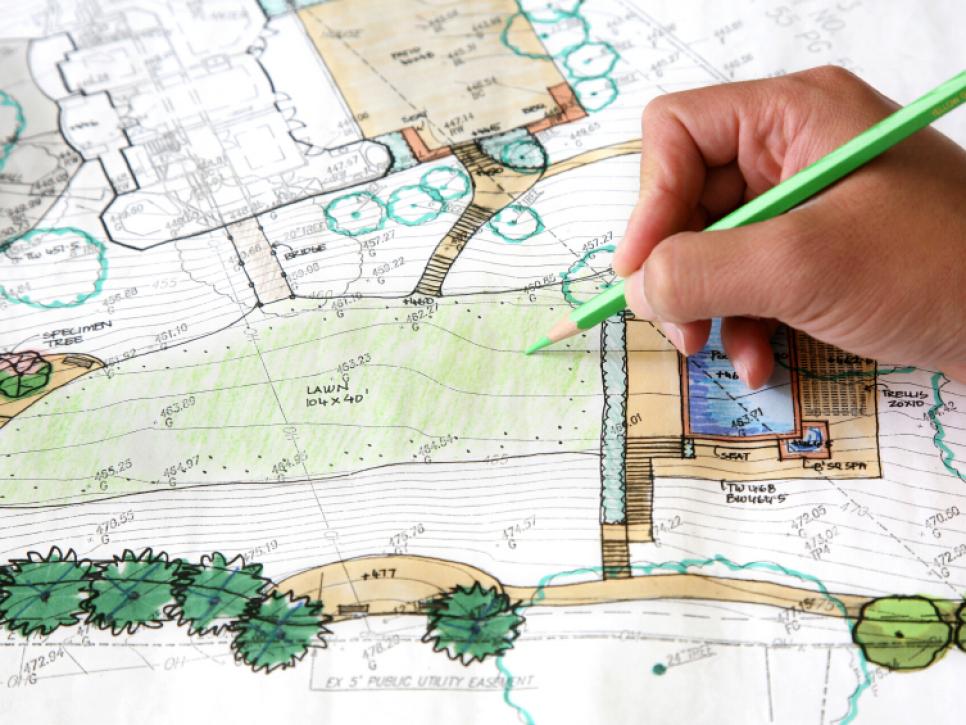 Solution: Sketch It
Decide on a specific theme or look and then draw it out on paper. Figure out where you want to put your plants and shrubs in relation to the shape and style of your house. Examine ways to bring the inside out so that when you are finished, you have a nice, harmonious design. Don't forget to factor in your budget, and when you hit the nursery, stick to it. If you follow the plan, you (and your landscape) will reap the rewards.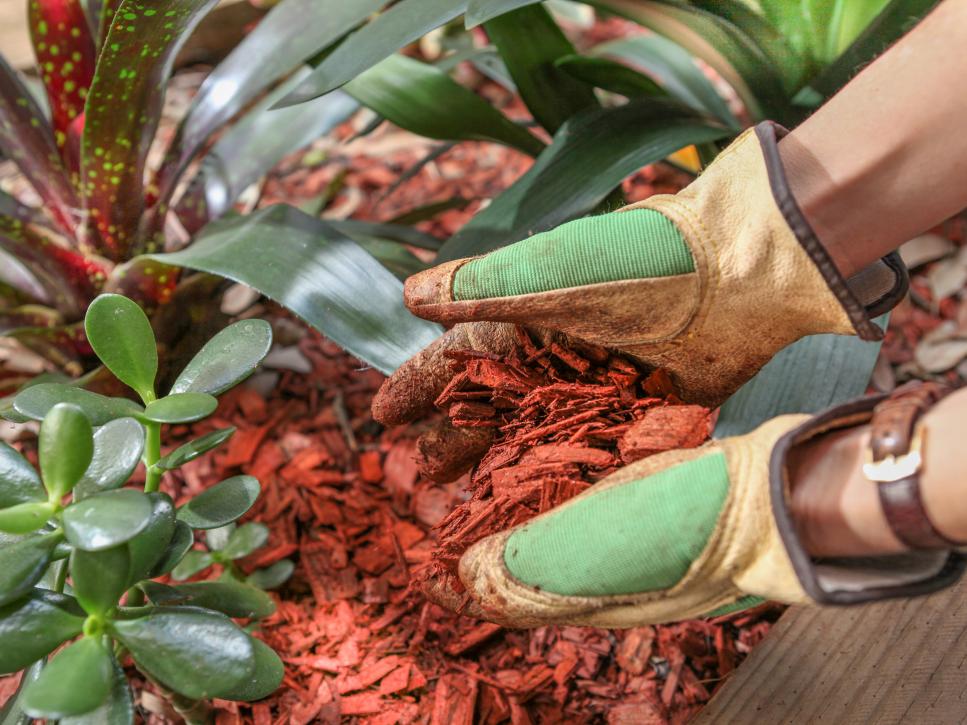 Mistake: Overlooking Maintenance
Not planning for garden maintenance.
Photo Credit: © iStockphoto/OzCameraman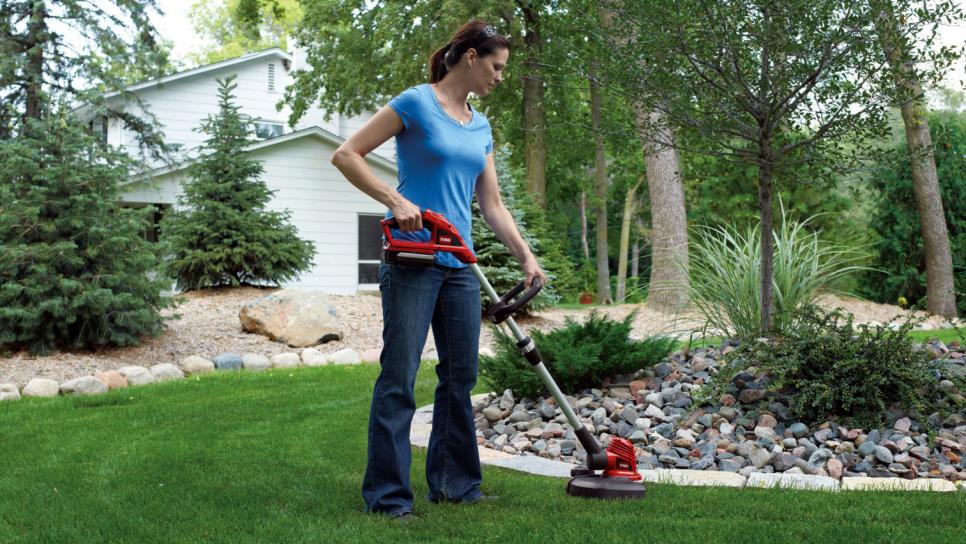 Solution: Make a Schedule
Part of planning a garden is also planning time to maintain it. Make up a maintenance schedule and abide by it. Garden beds need to be weeded at least once or twice a month, minimum. If you don't have the time to take care of your garden, make sure you have enough money to pay somebody to do it.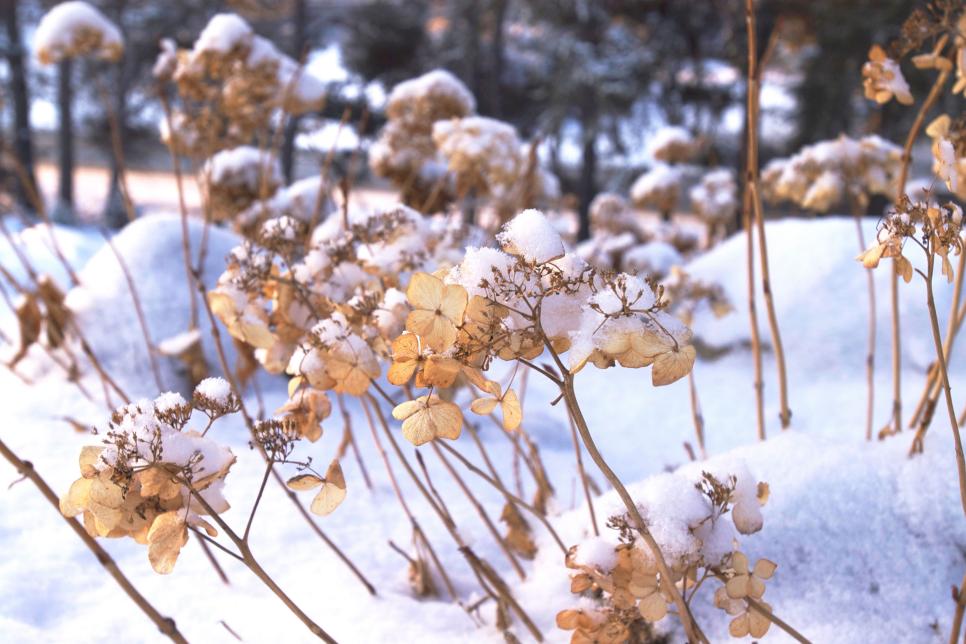 Mistake: Ignoring the Seasons
Not planning a garden for year-round color or interest.
Photo Credit: Endless Summer Hydrangeas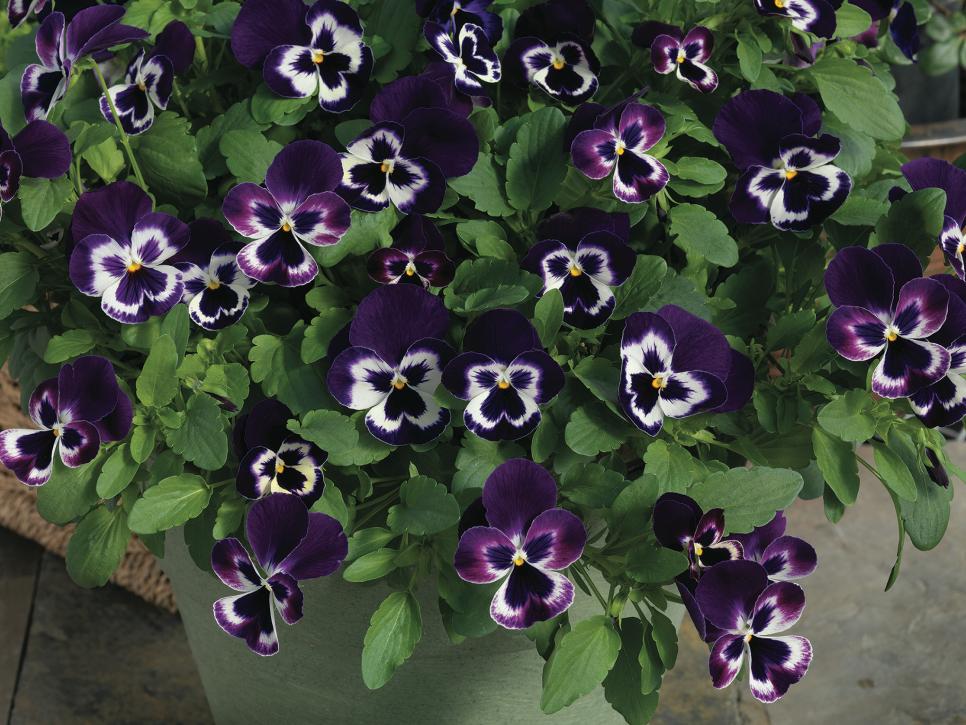 Solution: Create Year-Round Color
Plan out your garden with regard to the seasons. When homeowners go to a nursery or plant yard, they often just buy what's in season at the time. Various flowers bloom at certain times of the year. If you've got a lot of plants that are blooming in the spring, remember that in the fall you're going to need some other plants, if you want foliage. Select plants that look good in the winter and in the spring, if possible.
Photo Credit: Photo courtesy of National Garden Bureau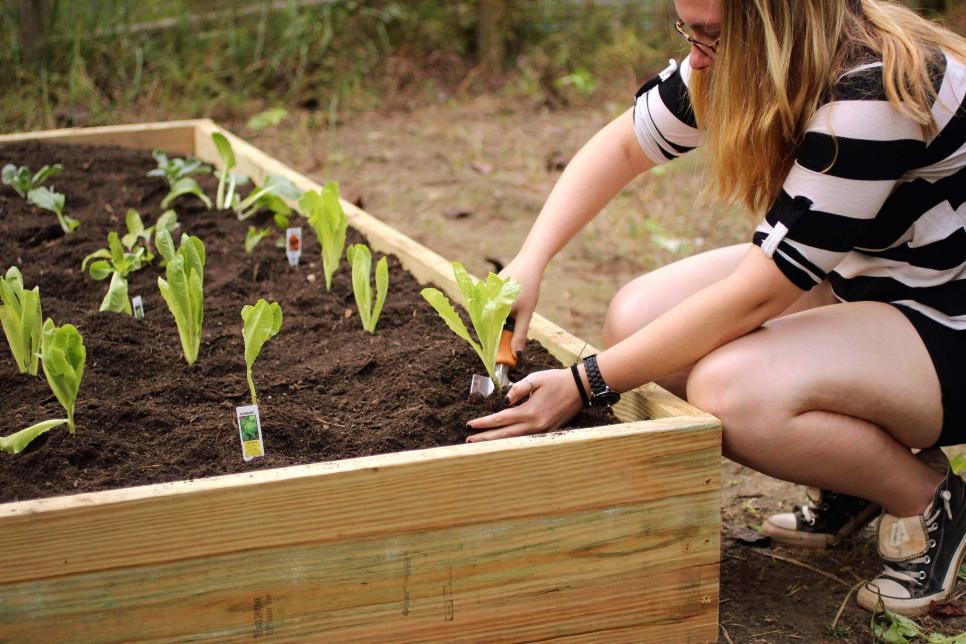 Mistake: Underestimating Budget
There is a lot of sticker shock in the world of plants. People often think "it's just a couple of plants, how expensive could it be?" Landscaping is actually 30 percent more expensive than any other type of home improvement project. Another area that gets underestimated is the budget, and one of the biggest factors in a budget is the labor involved. It always costs more, and people cost the most.
Photo Credit: Mick Telkamp
Solution: Create a Cushion
When you're starting a landscape project, make sure you have enough budget, because you want to do the job one time, and you want to do it right.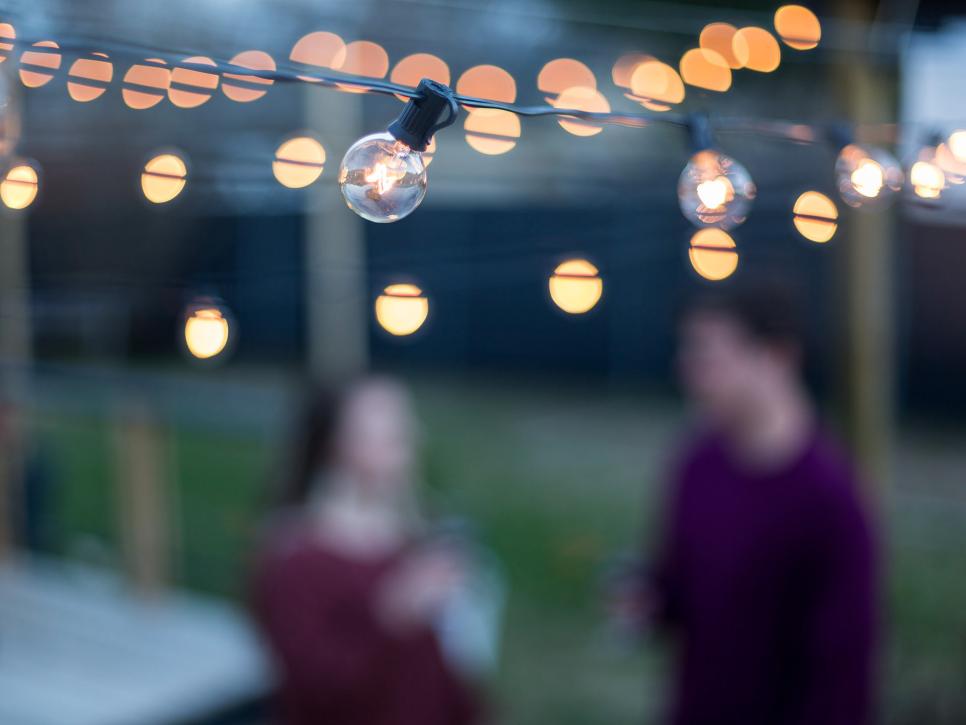 Mistake: Overlooking Exterior Lighting
The biggest mistake people make when they think about planning out their yard is only visualizing how it will look during the day.
Photo Credit: Sam Henderson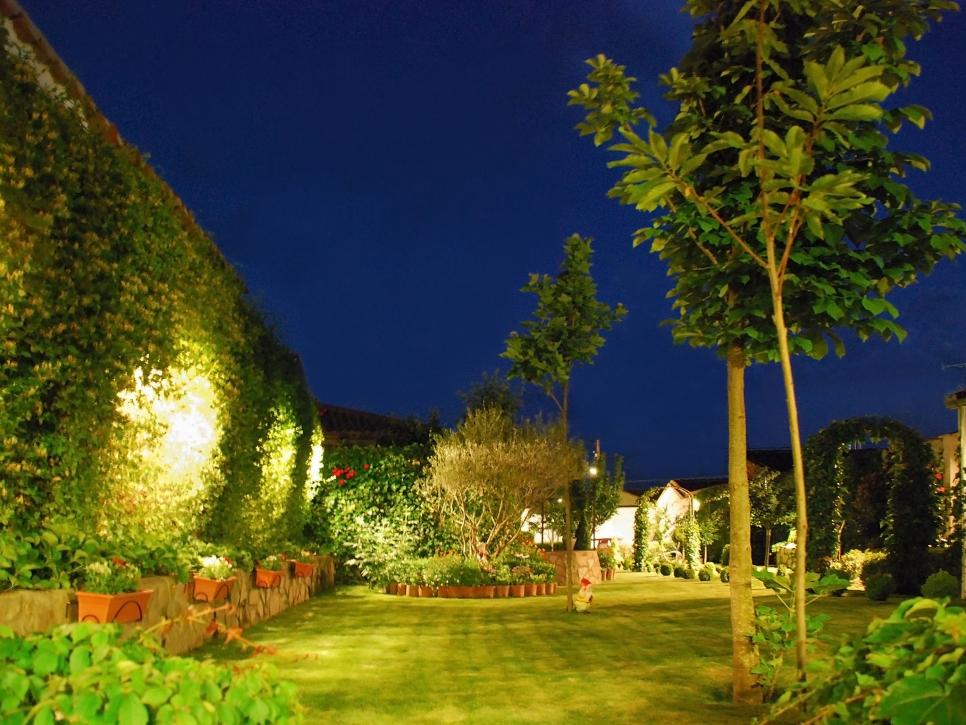 Solution: Make an Outdoor Lighting Plan
Adding some exterior lighting not only helps with vision and movement, but it also really makes the garden pop. It doesn't have to be expensive or entail a lot of effort. For instance, there are a lot of good solar lights that can easily be stuck in the ground. The sun heats them up all day and then at night they give off a soft glow.
Photo Credit: © iStockphoto/Correcaminos112
More Photos After This A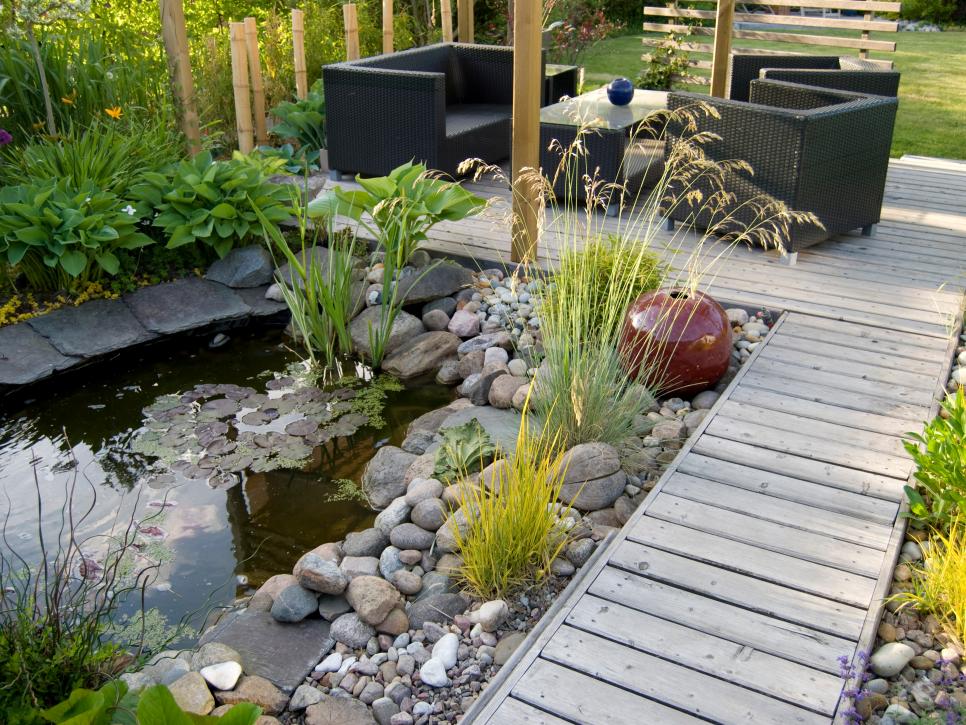 Mistake: Mismatched Style
Not considering architectural style when choosing plants.
Photo Credit: © iStockphoto/Eirasophie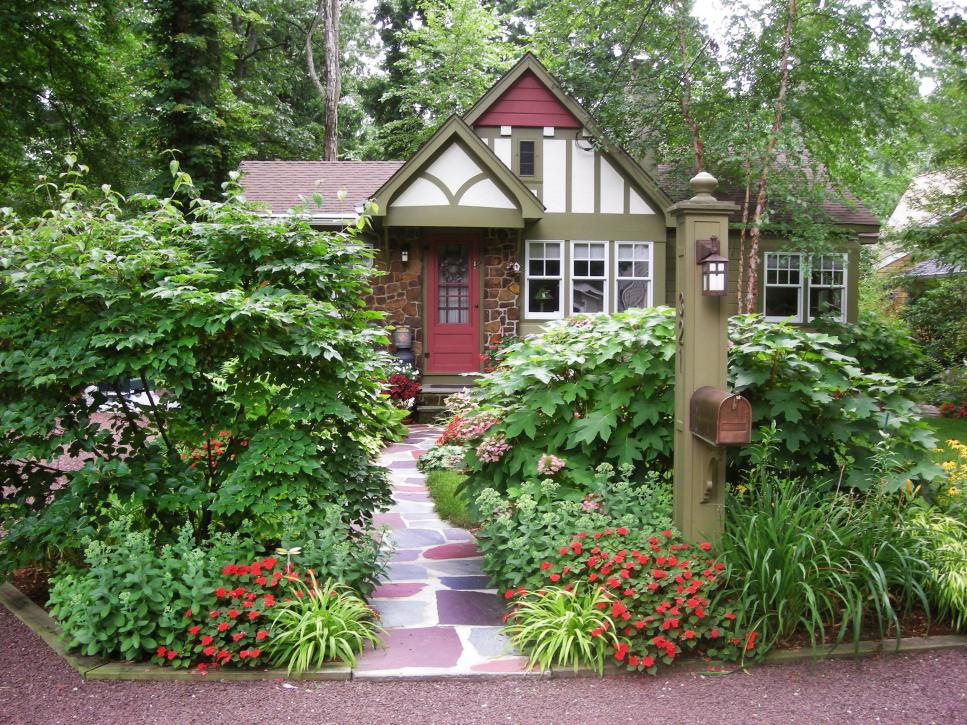 Solution: Think About Architecture
When selecting plants, you should match the architecture of your home with the theme of your garden. Above, the cottage-style garden goes very well with the style of the home. Besides the plants in your garden, you need to think about your hardscape. If you are putting in a deck, for example, you need to make sure those elements of your garden also reflect positively upon your house.
Now Viewing
14 Secret Landscaper Tips and Tricks
These tools and techniques are used by professional landscapers to make quick work of yard and garden tasks. Steal their ideas and make more efficient use of your gardening time and money.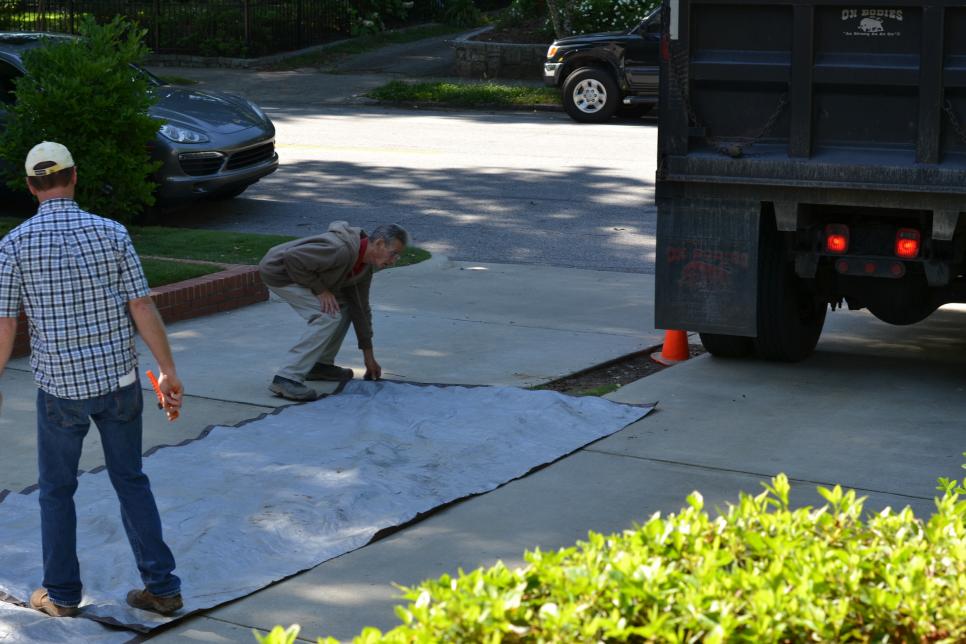 Get a Tarp
Use a tarp to move lightweight bulky debris like leaves, weeds, and even brush. Use it to hold soil when digging a hole, to keep the grass clean. Use it to cover plants in the back of the truck when driving home from the nursery.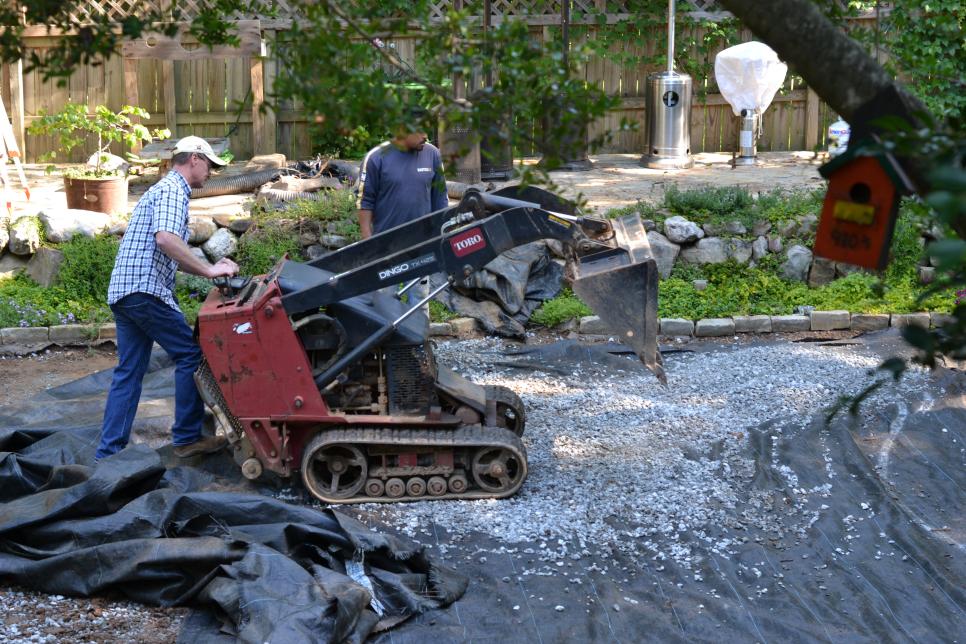 Use Weed Fabric Strategically
Landscape fabric is most useful under gravel or mulch walkways to keep the material from sinking into the soil. Skip the weed barrier fabric in planted areas. It only provides a short-term sense of accomplishment until the weeds start growing in the mulch on top of the fabric.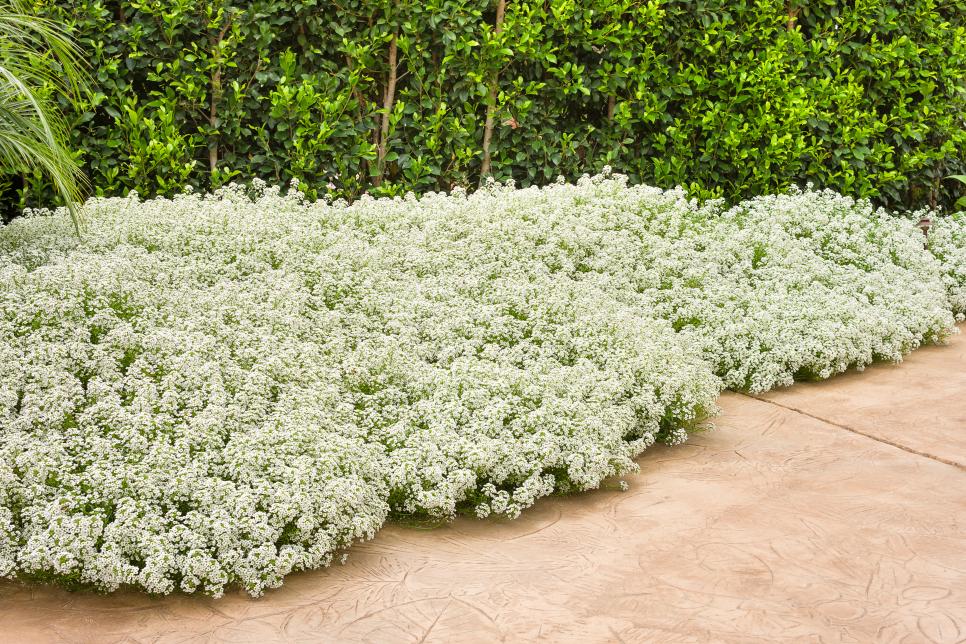 Create an Edge
Make a natural edge around beds instead of buying plastic or metal edging. Edging is useful to give a particular look to the landscape. However,a natural edge allows for easier maintenance over the long term and provides more flexibility for changes to the landscape.
Photo Credit: Image courtesy of ProvenWinners.com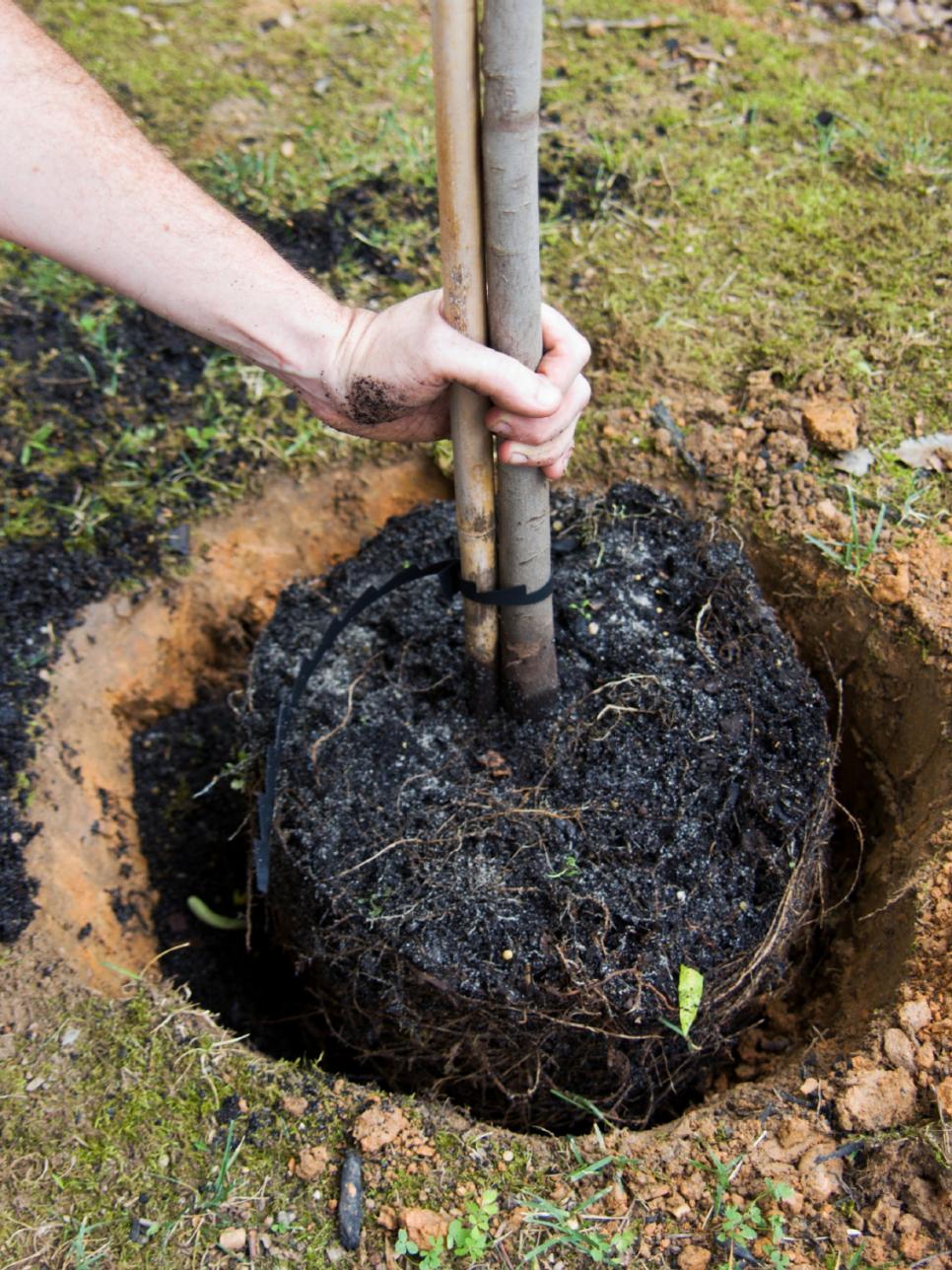 Use Starter Fertilizer
Use a starter fertilizer whenever you plant anything. Starter fertilizers can provide a tremendous boost to new plantings. The best products have low nitrogen, a bit more phosphorous, and most importantly mycorrhizae-beneficial fungi that help to greatly increase the soil area from which plant roots draw their sustenance. A good starter fertilizer combined with good planting technique is an awesome insurance policy.
Photo Credit: Image Courtesy of iStock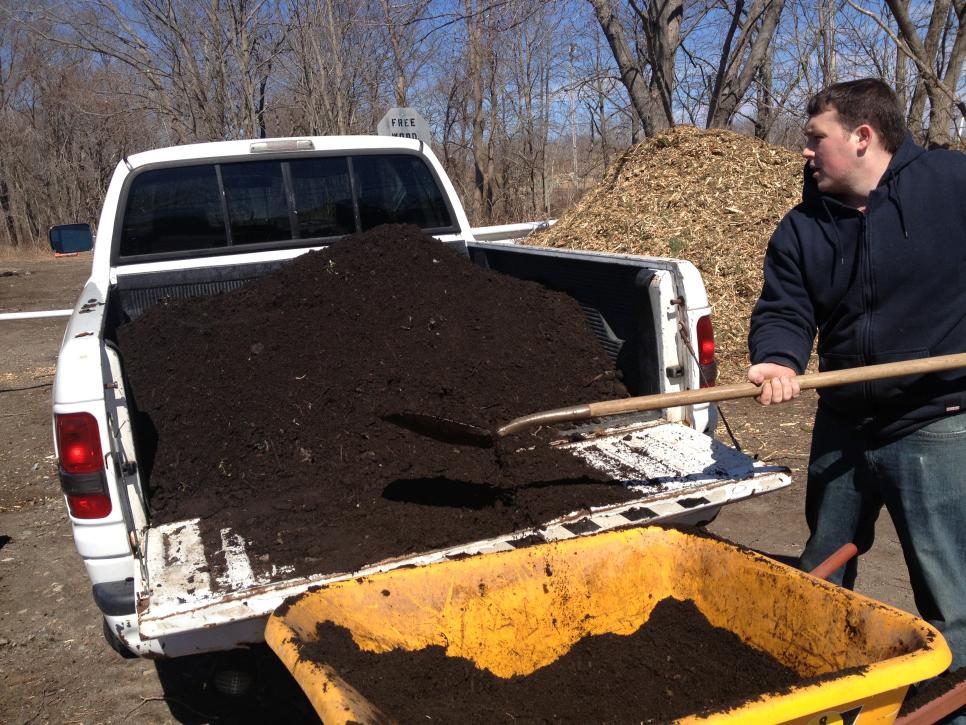 Choose Wisely Between Bulk and Bagged
Choose wisely between bulk and bagged mulch, soil, and stone. Buy bulk material when it can be dumped on the spot where it will be spread. Buy bagged material if it must be moved again after delivery. Both of these strategies will save time, work and money.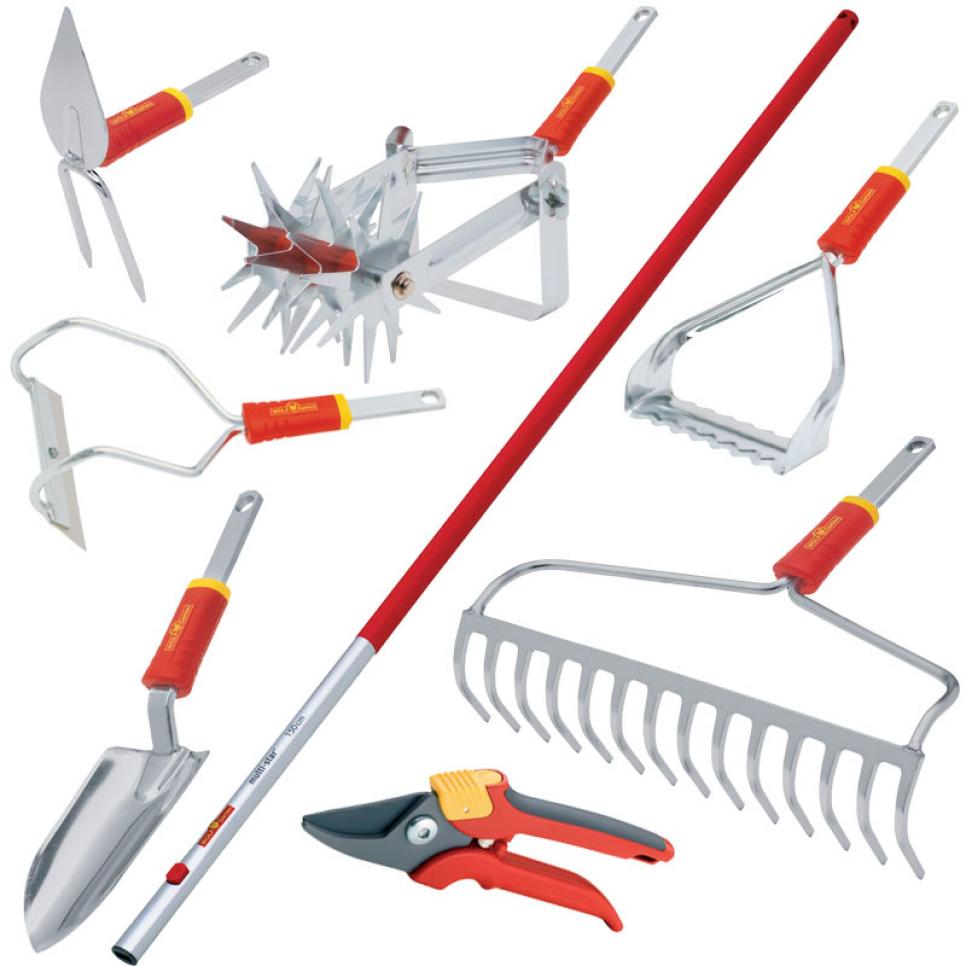 Garden Tools
Only buy good quality tools. The best quality may be a bit too costly, and an unnecessary expense for weekend DIYers. Cheap tools are likely to break in the middle of the first job. Save money and time by buying good quality at value prices.
Photo Credit: Image courtesy of Farmer D Organics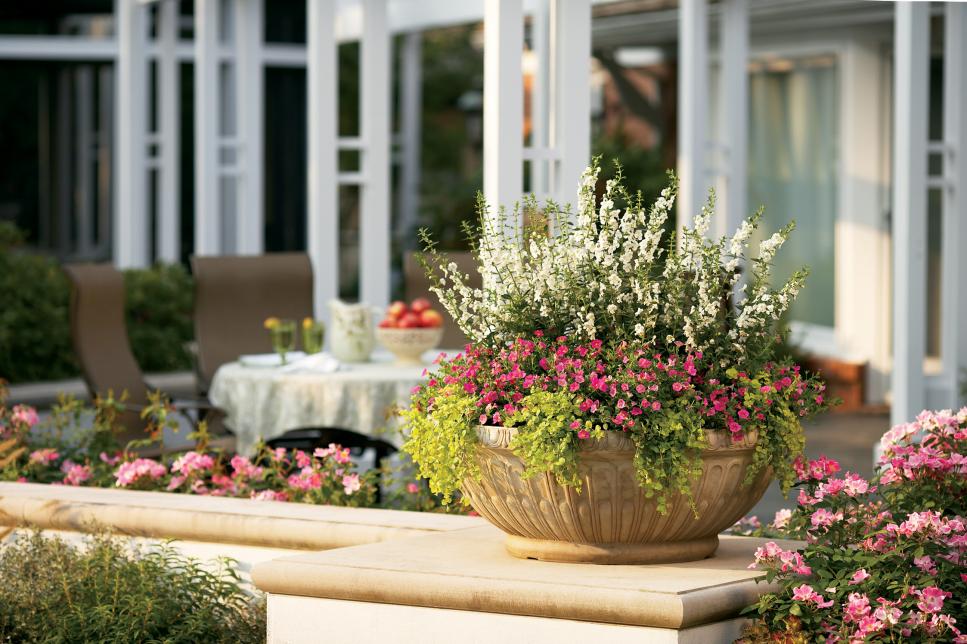 Consolidate Annuals
Consolidate annuals in pots or beds at high-visibility locations in the landscape for maximum impact. It would be very costly to plant new annual color throughout the entire landscape every season. Use these high-impact, long-bloomers in key locations like the mailbox, entryway, and patio containers.
Photo Credit: Proven Winners at ProvenWinners.com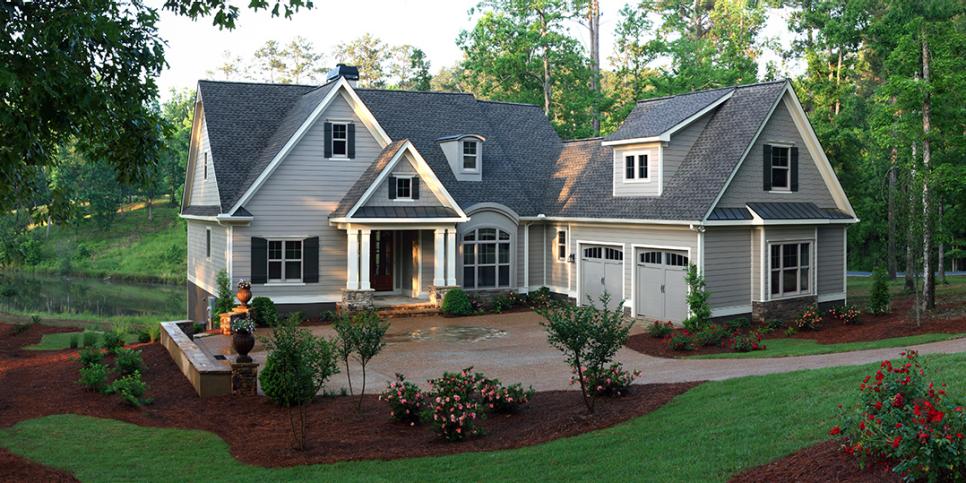 Make Mowing Fast and Easy
Group plantings into beds and islands and mulch them well to avoid mowing and trimming around each individual plant.
Photo Credit: Photo courtesy of Harbor Club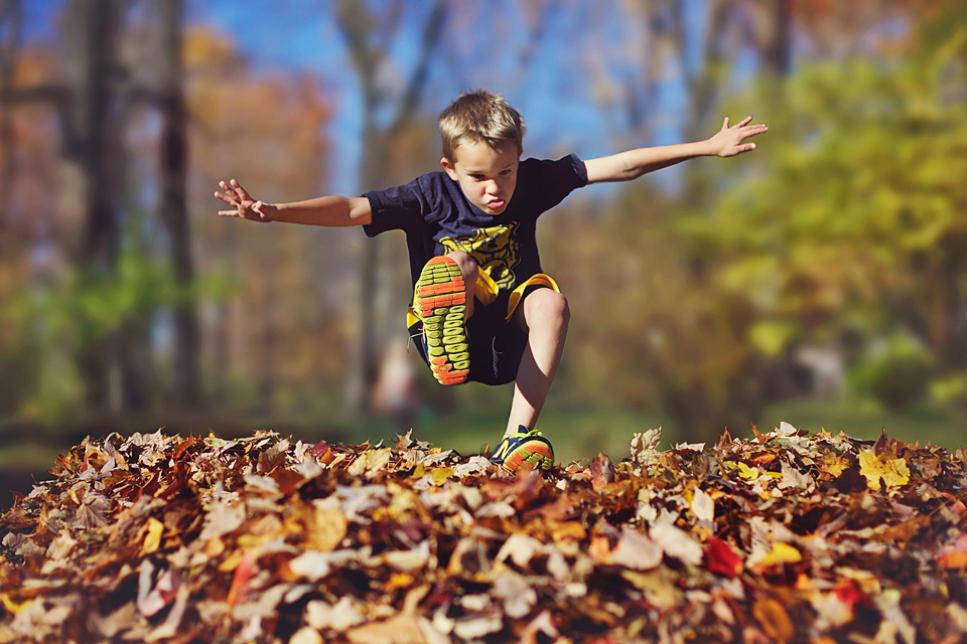 Keep the Leaves
Don't send leaves to the landfill. Mow small quantities into the lawn to provide a light dose of fertilizer for the grass and food for earthworms. Use a bagging mower or leaf shredding blower/vac to grind up fall leaves for use as mulch or add them to the compost pile. Till them into the vegetable garden before planting winter cover crops.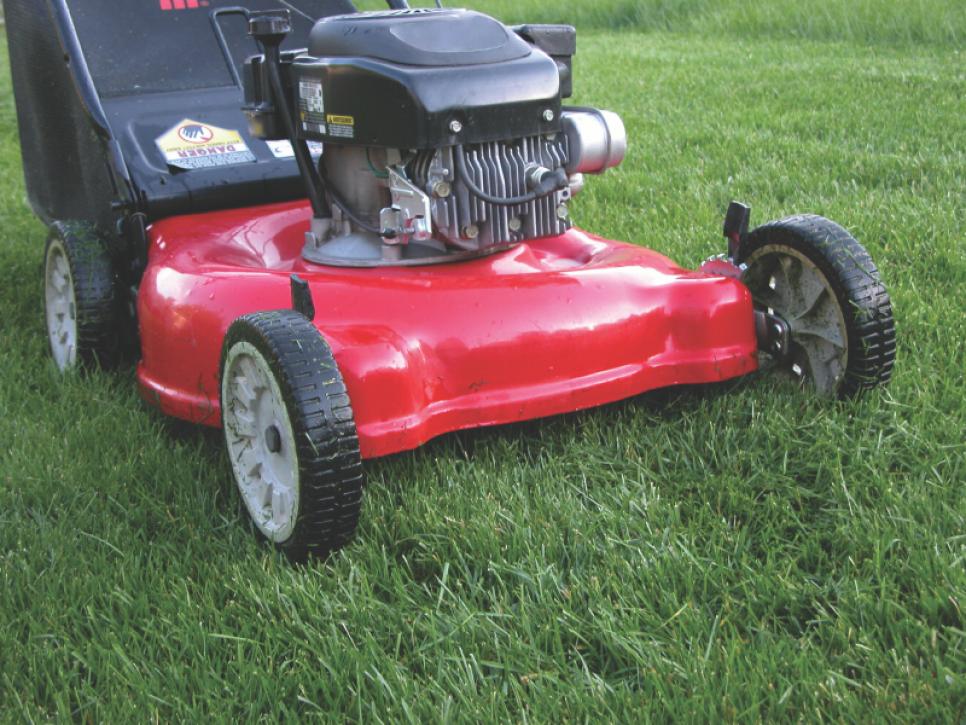 Recycle the Grass Clippings
Use a mulching mower instead of bagging and dumping grass clippings. This will cut fertilizer requirements by 30%.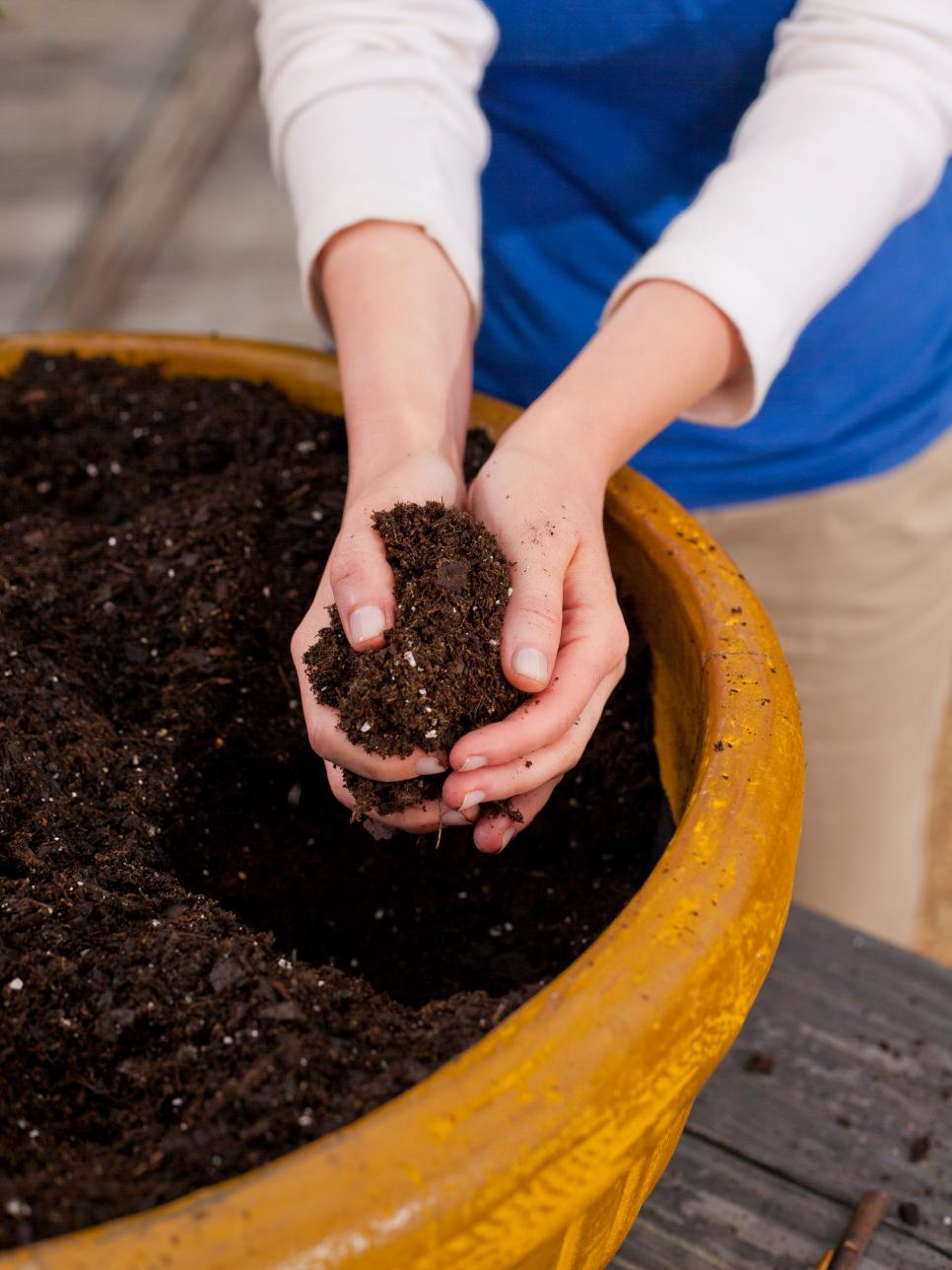 Test Your Soil
Get your lawn and garden soil tested by your state's University Extension Service. Guessing on fertility requirements can lead to costly mistakes. Soil test results will show the current conditions and what needs to be applied for your type of lawn, flower garden, vegetable crops, etc.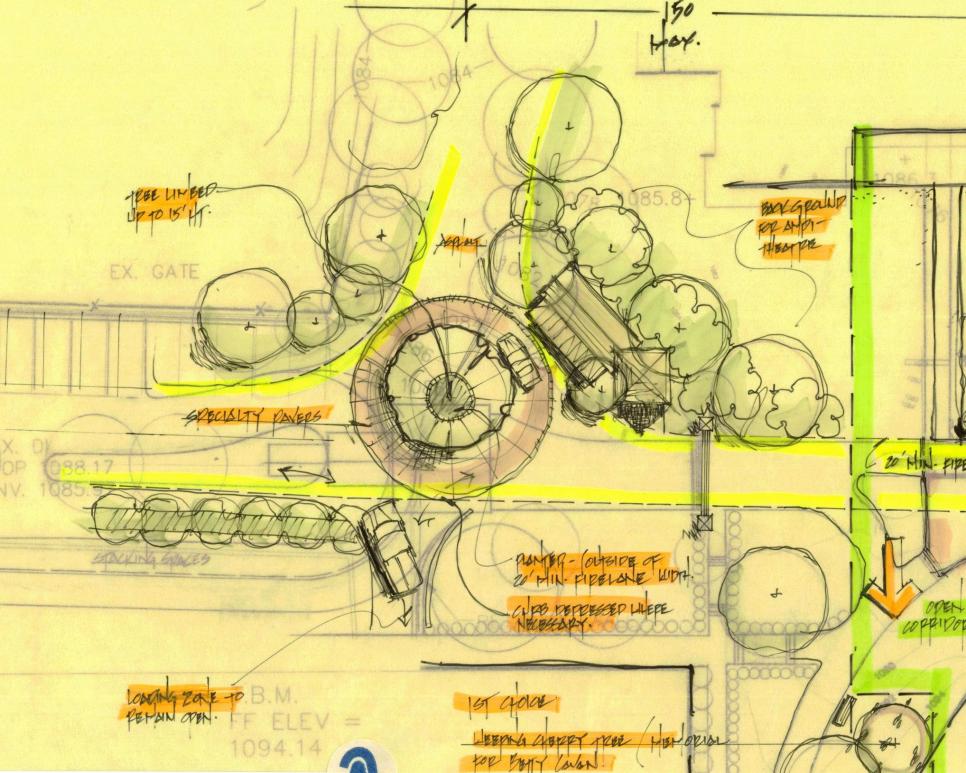 Work From a Plan
Create a master plan for your landscape, but work in phases. Keep the budget in check and get the maximum effect by focusing on small projects that are part of the big picture. When one project is complete, move to the next.
Photo Credit: Photo courtesy of MedicineWheel Land Planning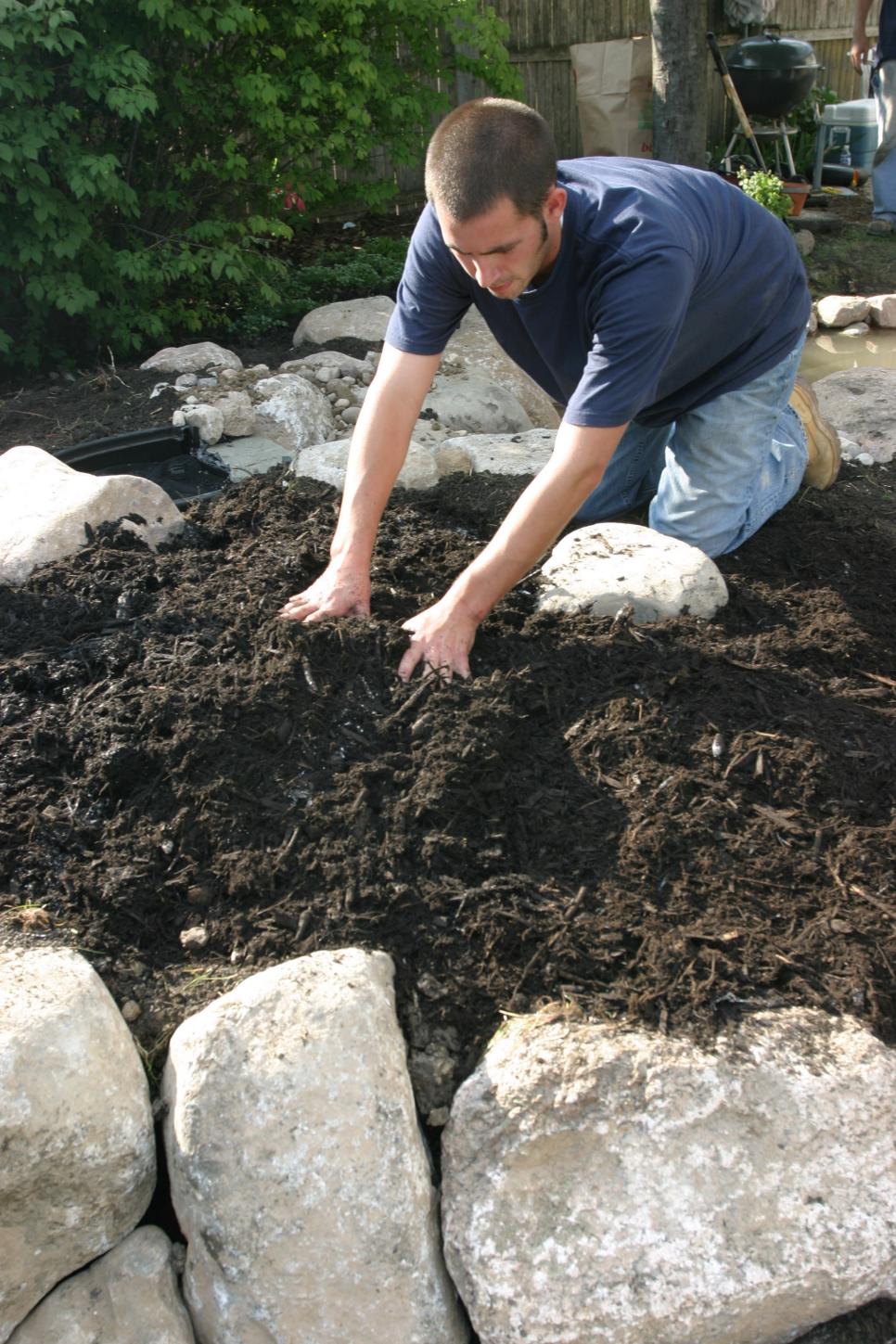 Buy Enough the First Time
To know how much soil or mulch to buy, you need to know how to calculate square footage of the area (length x width for square or rectangular areas), and how to convert cubic feet of the material for coverage of an area at specified depth( #cubic feet x 4 gives the number of square feet with three inches of coverage). Make fewer trips to the garden center by purchasing the right amounts of mulch and soil the first time.
Photo Credit: Image courtesy of Aquascape, www.aquascapeinc.com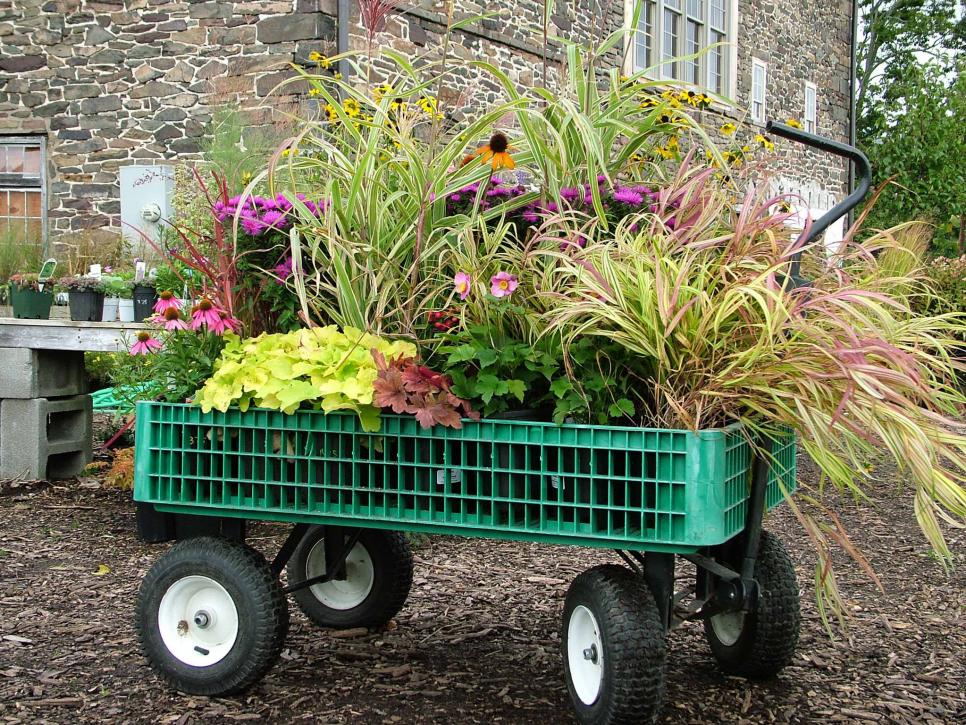 Buy Enough Plants
Don't run out of your varietal choices. Buy more flowers than you think you'll need...you can always return extras, or find a place to use them. If you run short and have to go back to the nursery, your color might be sold out.
You can't judge a house by its landscaping, but curb appeal is all about first impressions. Use these tips to look at your yard objectively and make it as visually appealing as possible.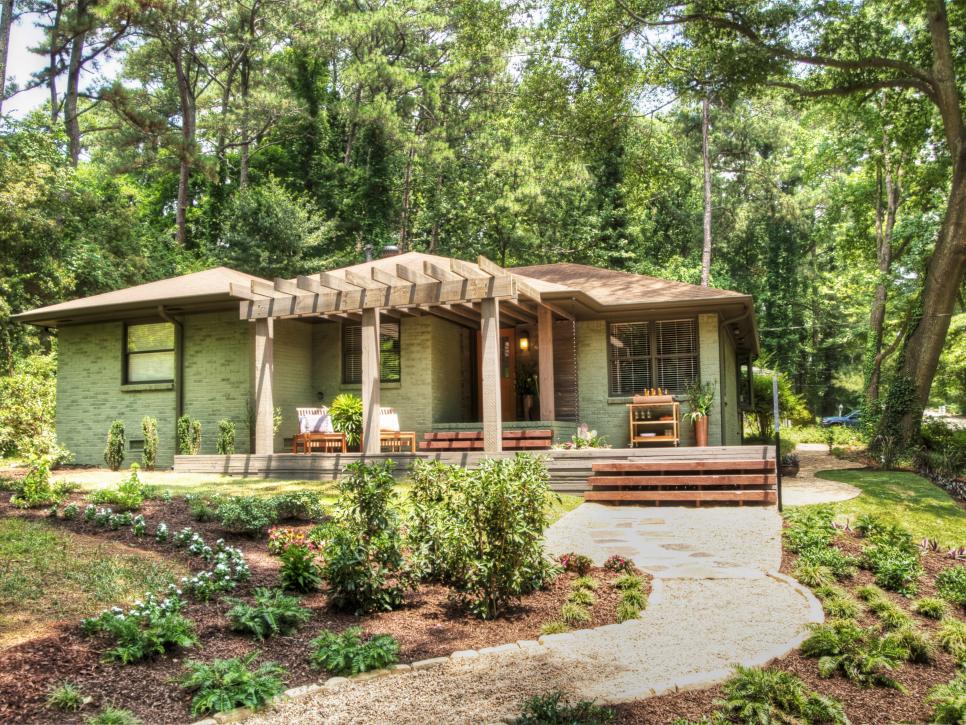 Lead to the Door
Create a clear path to your front door so guests will not be confused about which entrance to use. The winding walkways in front of this house anchor the home into the landscape and give people somewhere to walk besides the driveway. The beautiful planting beds also help point the way to the entrance. Design by John Gidding
Mix It Up
The plants in the front yard don't have to all hug the house or be traditional evergreens. Add variety to your landscape by mixing evergreens and flowering shrubs in a variety of colors and textures. Group plants by height and layer the groupings for visual interest. Design by John Gidding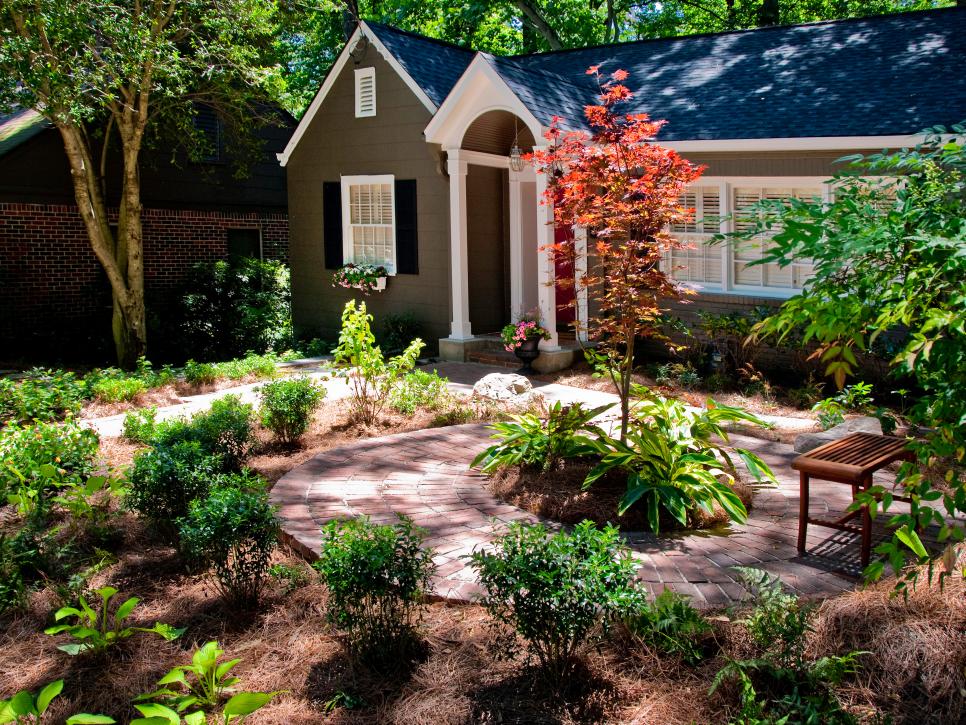 Create a Focal Point
Every outdoor space needs a focal point that tells the eye what to look at first. This can be almost anything, such as a fountain, bench or patterned hardscape. In this landscape, a tree surrounded by a circular walkway serves as an eye-catching element.
Photo Credit: Joshua Mark Thomas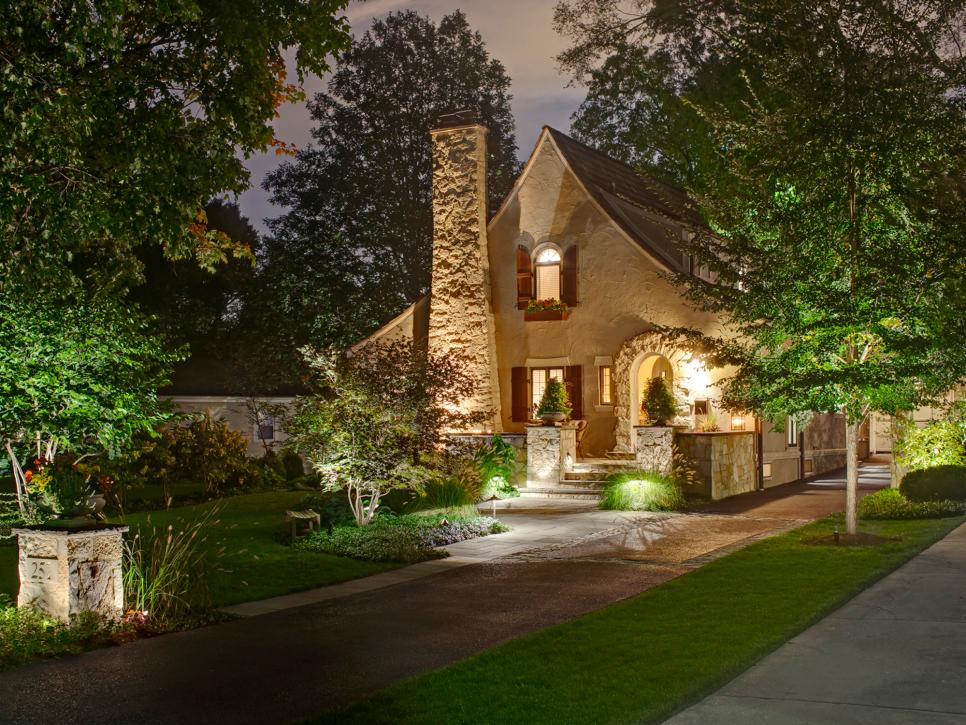 Roll Out the Welcome Mat
Make your home's main entrance more inviting by creating visual interest with planters, urns or a symmetrical element by the door. This home's entrance is highlighted by beautiful lighting and stone pillars topped with small plants. Design by Bob Hursthouse
More Photos After This Ad
Tune Up Your Hardscape
Make sure your walkways and driveways are up to par, as poorly kept hardscapes make a bad first impression. This southwestern villa has a beautiful paved driveway, giving visitors an impressive first look at the house. Design by Thom Oppelt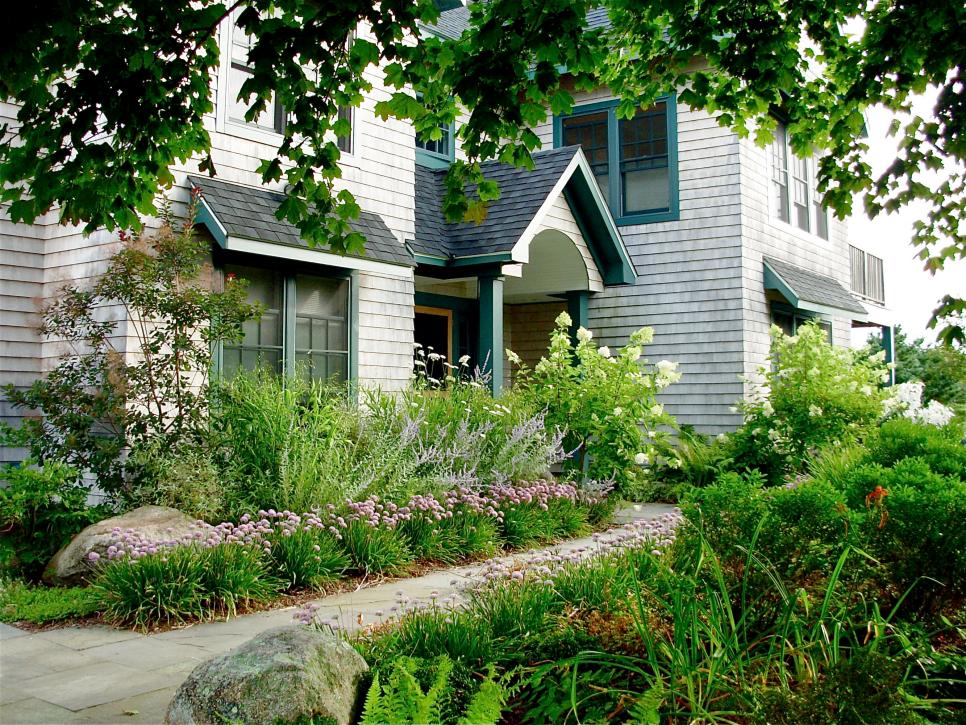 Beautify Your New Yard
Newly constructed houses rarely come with a beautiful landscape. Often the builder-issued landscape is skimpy or nonexistent. Take advantage of the blank slate and design your dream landscape. Design by Virginia Rockwell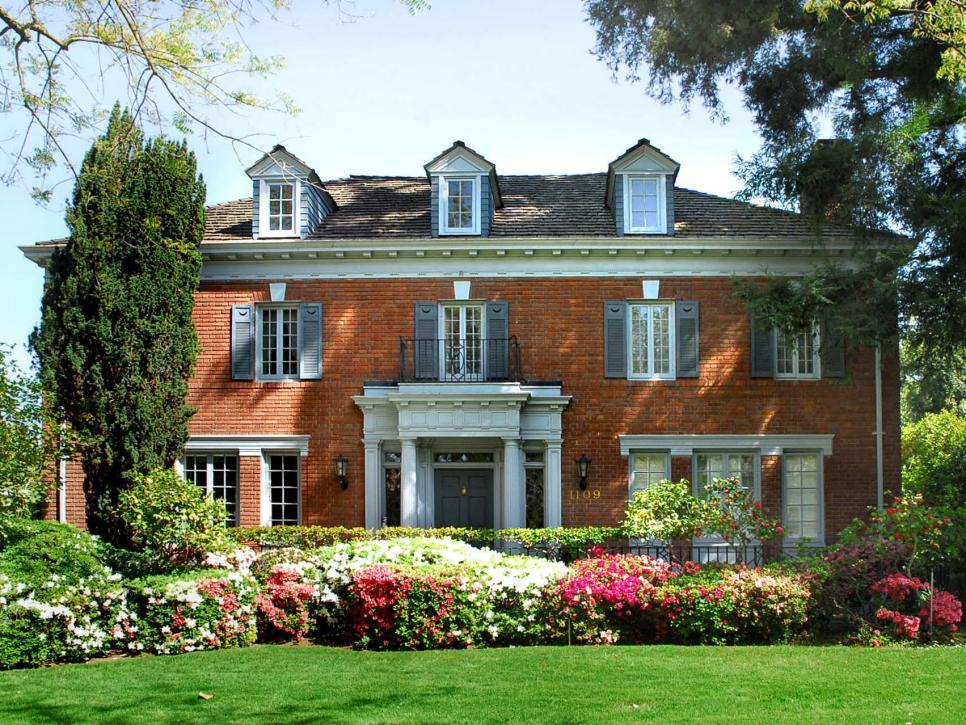 Trim Shrubs and Plants
Spruce up your landscape by trimming shrubs, removing dead or diseased plants, and splitting clumps of perennials. Overgrown plants can block light from entering your house and detract from architectural details. This home's well-manicured shrubs set a great first impression and show that the owners take pride in their home.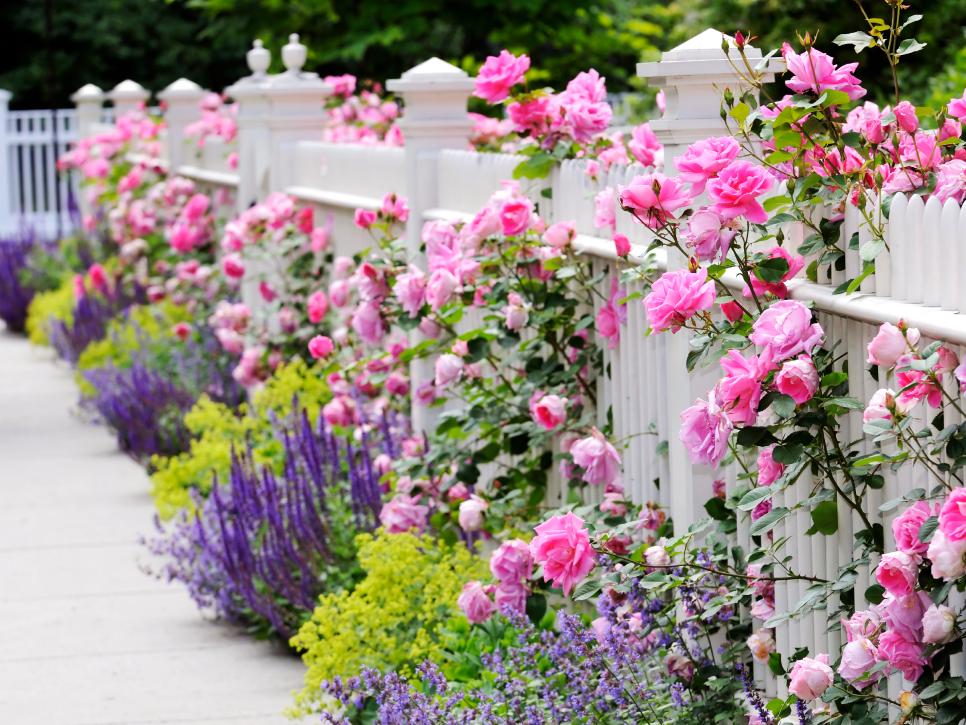 Add a Hedge or Fence
Sometimes your neighbor's yard is the problem. Try adding a hedge or fence to frame your yard while hiding distractions. A white picket fence draped in colorful flowers is a nice hardscaping element and an ideal barrier against unattractive sights.