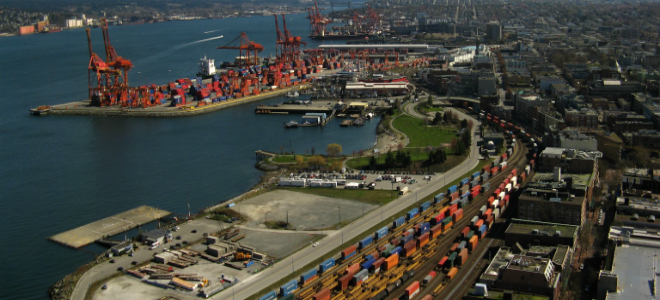 High industrial occupancy and demand at Port Metro Vancouver has propelled Canada's largest seaport to be a leader in the North American seaport real estate market.
According to Jones Lang LaSalle's (JLL) annual Seaports Outlook report, which examines the health of major container seaports and their surrounding real estate, this western port saw a 16.7 per cent traffic spike between 2007 and 2014. This is the largest hike on the west coast, placing the port sixth overall in North America. Over the next 15 years, traffic is expected to double there.
Overall, a 8.5 per cent traffic increase across the continent since 2007 has created more industrial demand and, as a result, more distribution centres have cropped up at top seaports brimming with a more cargo and consumer goods.
"In the last several years, we have seen notable growth in the number of distribution centres receiving containers from Asia," says Marshall Toner, executive vice-president of industrial and logistics at JLL Calgary. "There has been a significant amount of distribution space built in the vicinity of rail and air terminals, catering to clients who require easy access to rails and air to receive or distribute their product."
Canada is indeed witnessing dramatic growth, with new government investment driving the industry, Warehouse occupancy levels have reached monumental highs, surpassing 2007 levels, which was the high-point of the last real estate boom.
The ports that were analyzed in the study received a total of 43.4 million twenty-foot equivalent units (TEU) containers in 2014. Montreal also earned a place on the JLL list. Although its growth isn't as high as in Vancouver, it still ranked number 11.
"The Port of Montreal has observed strong increases in cargo volumes, and we are also seeing a significant uptick in bulk commodities at Thunder Bay in Ontario," says Mark Levy, managing director and lead of JLL's ports airports and global infrastructure practice group. "In the next seven years, there will be a full expansion and modernization of the westside terminals at the Port of St. John."